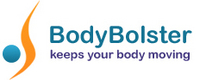 Sydney, Australia (Vocus) October 27, 2010
There are five common senses that are identified and learned from an early age: sight, hearing, taste, touch, and smell.
One overlooked sense, known as proprioception, is as important, if not more important as the other senses, for normal functioning.
Proprioception is the process by which the body can vary muscle contraction in response to incoming information. It's the sensory feedback mechanisms (our nervous system) for motor control and posture - and it is necessary for learning a type of movement or skill involving muscles.
The BodyBolster is a postural support and exercise tool designed by Australian physiotherapists to assist the "feedback process".
The BodyBolster's unique texture (firm yet malleable) is designed to give gentle feedback to the nervous system to improve posture and consequently reduce back pain, shoulder aches and neck strain.
The springy, active support of the BodyBolster increases muscle contraction by switching on core stabilizer muscles and as a result promotes erect posture.
When in place, the BodyBolster's malleable, yet firm design invites a sense of letting go - allowing movement rather than forcing it.
"…inactivity of the postural muscles promotes deterioration in the strength and stability of the spine…whatever you don't use, you lose….the BodyBolster teaches you to actively contract postural muscles allowing you to maintain strength and stability of the spine"
Gary Webb
B. ExSC & Rehab (hons) MALMA
AlphaOne - Workplace Health Consultant
Adjunct lecturer - Southern Cross University
Lifestyle Medicine Consultant – World Health Organization (WHO)
(The BodyBolster comes with a user guide DVD demonstrating 47 exercises to increase range of movement, improve flexibility and build core strength.)
###