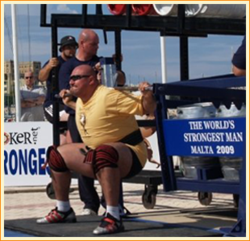 I am back training hard with my sights set on winning Europe's Strongest Man on 29th June, followed by World's later in the year. I know that Explosive Nutrition will help me achieve these ultimate goals
(PRWEB UK) 31 January 2013
Leading bodybuilding supplements and sports nutrition retailer - Explosive Nutrition - are proud to announce their renewed sponsorship with Britain's Strongest Man and award-winning athlete,Laurence Shahlaei. Explosive Nutrition have successfully supported Shahlaei for three years running and are now pleased to confirm that they will continue to support his world-renowned sporting achievements. Having won prestigious titles in the past such as first place in Finland Giants Live, 3rd place as Europe's Strongest Man and 1st place as England's Strongest Man in 2009, Laurence Shahlaei is a desirable choice of athlete to sponsor for popular sports nutrition companies. The award-winning athlete has gained an impressive reputation amongst sporting professionals, due to his with heavy-lifting awards and record-breaking strength. Earlier in 2012. Laurence appeared on popular TV game show, Deal or No Deal, where he had the privilege of lifting host, Noel Edmonds, high above his head.
After being crowned Britain's Strongest Man in 2012, Laurence's next goal on the horizon is to be dubbed Europe's Strongest Man and then World's Strongest man. Additionally, Laurence hopes to break the world record for the Super Yoke event, with Explosive Nutrition helping him on his journey. Last year however, Laurence suffered a painful injury resulting in a torn tendon in his shoulder during a contest in China. This was a huge setback, as it took the athlete six months to recover, missing out on crucial training time and making his dream title of Europe's Strongest Man uncertain. "This was a huge blow but after six months recovering, I am back training hard with my sights set on winning Europe's Strongest Man on 29th June, followed by World's later in the year. I know that Explosive Nutrition will help me achieve these ultimate goals."
Back in the game and feeling healthier than ever. "I feel just as strong but much lighter, which has helped me raise a few weaknesses and improve." Laurence Shahlaei currently endorses a number of sports nutrition products via Explosive Nutrition, which he uses to keep in top physical shape and up his athletic game. Popular supplements from reputable brands such as Kinetica and Reflex provide Shahlaei with joint support and BCAAs for optimum physical performance during contests. Managing Director of ExplosiveNutrition.co.uk, Shaun Longhurst, is looking forward to a new partnership with Shahlaei. "We are extremely pleased and proud to be continuing our partnership with Loz, in the hope that he will achieve his dream of being crowned World's Strongest Man". Laurence Shahlaei is currently featured on Explosive Nutrition's website as a sporting expert, offering valuable training advice to website members and fellow athletes.