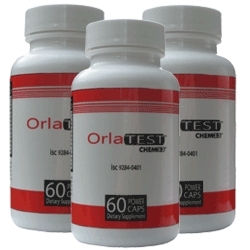 Aurora, CO (PRWEB) September 17, 2010
For those bodybuilders that want a smaller, tighter, more shredded midsection, what should they do? Go on a low carb diet? Do more cardio and crunches? Of course all that would help, but according to a clinical study published in the medical journal Andrologia, elevating testosterone with OrlaTEST may just be the best way to get a "cut-up-6-pack"!
In a "nutshell", the researchers discovered that there is a direct relationship between abdominal fat and testosterone levels; a bodybuilder with higher testosterone levels has lower percentage of body fat.
Of course, following a "clean" diet, devoid of refined carbohydrates and doing lots of cardio and "ab work" is the best known route to get men on the right track to better defined abs. But, according to this study, a man's testosterone levels may be a critical factor in getting a shredded six-pack, and here's why.
Researchers concluded that testosterone may have a suppressing effect on an enzyme called lipase. This is the enzyme that's believed to be responsible for the conversion of carbohydrates to fat. So with this enzyme greatly suppressed, carbs aren't converted to fat as efficiently.
This news however, isn't really all that surprising to seasoned bodybuilders who have gone to great lengths to do "whatever it takes" to keep their testosterone levels high. Bodybuilders usually see the fat loss as an "added benefit" or a "positive side effect" of their testosterone use.
So, what's the best way to elevate testosterone? While some athletes go to the black market, others seek more "legitimate" channels like going through their family doctor or focusing on purely anabolic foods.
However, the first method is illegal and dangerous (because fakes and scams are commonplace on the illegal drug market) and the other methods are expensive and difficult to do. Going through a doctor means that there has to be a legitimate reason for the patient to use testosterone and this usually requires blood work; and that's only if the patient can convince the "doc" they need it. Even then, the patient will only (at most) get a "therapeutic dose"; not a "bodybuilding dose."
But there is another option for those who want to reduce their personal risk and still get the numerous benefits of testosterone replacement therapy. Through our diligent research we have discovered a testosterone derivative called OrlaTEST by CHEM33 that (as of today) is still legally available in the USA. This type of product is commonly called a prohormone or pro-steroid and they are quickly disappearing from the legal market. OrlaTEST's target compound (the one it converts to in the body) was originally developed by German steroid bio-chemists for East German Olympic athletes and was originally sold under the name of Oral Turinabol. OrlaTEST is one of the last remaining testosterone derivatives legally available and is highly sought after by top level bodybuilders. So, those interested in OrlaTEST must act fast because according to the manufacturer, there is a very limited supply and once it's gone, it will no longer be available in the USA.
For more information on OrlaTEST and many other testosterone alternatives, please call Zupplements.com at 1-888-987-7748 or visit http://www.zupplements.com.
###