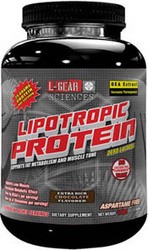 We try to provide a large selection of products to help maintain a healthy body at prices that are well below what you can find in a retail store
Portsmouth, NH (PRWEB) August 22, 2008
Those who are dieting often take protein shakes to help retain muscle and to get a relatively low calorie liquid snack that will help curb cravings between meals. Standard whey proteins are helpful in this way but do have some shortcomings. First, they are high in cholesterol which limits the amount that can be taken. Second, due to the amounts of lactose in protein shakes, many consumers notice stomach upset and bloating.
Finally, what appears to be a perfect solution has arrived.
Lipotropic Protein, made by LG Sciences is lactose free as it is derived from vegetable sources - peas. It is also cholesterol free. Sounds like Soy Protein, right? Wrong! Soy protein is known to raise estrogen levels therefore having a harmful effect on testosterone. This is not the case with LipoTropic Protein. Also, this pea based protein causes no stomach issues, has an excellent amino acid profile, and is high in the essential amino acids that aid in building muscle.
Perhaps most importantly is the fact that this new protein can actually help burn fat. The secret is something called polyphenols, which are plant extracts that are known to help increase the body's own fat burning effect. Polyphenols can be found in many plant varieties, but some of the most potent come from tea extracts like green and black tea. These polyphenols are proven to help the body burn more fat calories per workout and to keep burning fat all day long.
This is the "holy grail" of all protein supplements, to be able to burn fat while promoting lean muscle growth and it is finally available. Lipotropic Protein is a new great tasting protein source from LG Sciences that delivers on the amazing promise to build muscle while burning fat.
Along with bodybuilding supplements , FitnessFirstUSA.com also sells nutritional supplements such as vitamins, accessories, books/DVDs, and light exercise equipment. "We try to provide a large selection of products to help maintain a healthy body at prices that are well below what you can find in a retail store," says Mark Taylor, one of the partners.
"We are excited about the new Lipotropic Protein. It is not just another product on the shelf. It solves a problem for many customers. It gives them a cost effective protein that will help build muscle, burn fat and will not cause stomach problems. When the product arrived we opened one to sample it. Several people in the office and warehouse had a shake and everyone liked the taste. That says something!
About FitnessFirstUSA.com
FitnessFirstUSA.com is an internet supplement company that has been selling fitness and nutritional supplements to US Military members overseas or stateside along with fitness enthusiasts here in the US for over 10 years.
# # #