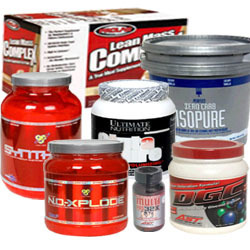 Aurora, CO (PRWEB) September 23, 2008
The custom designed anabolic and fat burning stacks at Zupplements.com are now available to the public at a pre-packaged discounted rate. Some of them are designed for the elite athlete while others will provide great results for a wide variety of people. All of the stacks are designed by Zupplements.com customers.
It seems building muscle and burning fat is more difficult than ever. Even though supplements are not the only answer, they can make drastic difference in muscle performance and improved recovery time; a major factor in muscle growth and strength building workouts.
One of the custom stacks was designed by a Mr. Oklahoman competitor. Appropriately coined the "Mr Oklahoma Stack", the 4 week cycle features the great tasting Lean Mass Matrix, an MRP from Prolab and Isopure, a Protein blend from Natures Best. It is complimented by DCG and a Multivitamin from AST; Glutapure by Ultimate Nutrition, and finally Syntha 6 and NO Xplode, both from BSN.
Another stack of products is specifically designed to enhance the training of an MMA fighter, similar to the athletes who compete in the Ultimate Fighting Championship or UFC. The MMA Stack is a three product combination that combines a powerful hardening strengthening agent along with a popular testosterone booster and an energy supplement.
The more intense testosterone based stacks like the 8 week "Freak Of Nature Stack" and the 4 week "Advanced Cycle" are without question some of the most powerful of all the custom designed steroid replacements. The Freak Of Nature Stack comes in both 4 and 8 week cycles and contains three testosterone based anabolics touted as the most potent possible combination of supplements ever created.
As most people know already, supplement stacks like these aren't a replacement for good food choices and working out with weights yet, when they are used, they can motivate athletes to make substantial progress much faster than without.
Zupplements.com makes it clear that use of these stacks may not be approved by the makers of the individual products stacked. They also state that use of these powerful prohormone or prosteroid supplements may lead to adverse and unwanted side effects. Use of proper Post Cycle Therapy or PCT may be required.
If you would like more information on the custom anabolic stacks at Zupplements.com or if you have a stack that you'd like to see available on Zupplements.com, go to http://www.zupplements.com and click on "Stacks and Cycles" or call toll free at 1-888-987-7748. info@zupplements.com
###