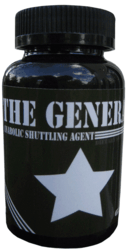 Denver, CO (PRWEB) October 25, 2011
The General is a new and creative anabolic dietary supplement designed for bodybuilders and athletes that need to add muscle mass. Since The General is non-hormonal, it can be used literally non-stop throughout the year and is considered legal at every level of competition in the USA. The General is especially unique because of its ability to enhance the shuttling of amino acids, creatine, and glucose directly into the muscle tissue, creating a better muscle building environment inside the muscle itself. ATP based anabolics have been very popular in the past and while they don't have the "glamour" of a steroid alternative or growth hormone supplement, they are considered to be much more effective muscle builders all around.
Who can use The General?
The General was first designed to be used as an off-cycle supplement to support those bodybuilders who are taking a break from hormone based supplement or steroid cycles. However, all men and women who desire to add muscle mass and strength through bodybuilding can benefit from using The General. The General is especially popular among amateur and professional sports athletes, as well as military, police and service personnel. The General doesn't require a prescription it can be purchased by anyone over the age of 18 years old. Furthermore, athletes who may be interested in the benefits of anabolic steroids may consider The General as an effective legal alternative.
How should The General be used?
The General comes in 120 pill count bottles and, according to the manufacturer, is best used for 6 to 12 week cycles and in-between pro-hormone or steroid cycles to "keep the muscle growth going" and to help prevent the "rebound effect" that is so common when coming off of a steroid cycle. This is a powerful benefit because it's not uncommon for a person to lose 10-20% of their gains once they stop using a steroid.
It is a very common practice in bodybuilding to "stack" or use different supplements that complement each other over a corresponding period of time. This can potentially lead to better effects from the supplements than if you were to use them alone. The General can be stacked with nearly every other type of supplement available on the market however, it is best when used in conjunction with an amino acid complex or BCAA. The General can also be used along with top rated fat burners like Hydroxycut or Ampagen.
Where can you find The General?
The General is legal without a prescription in the US and can be found online at http://www.zupplements.com and at some select bodybuilding gyms across the country. The General is not found in any GNC or other large chain vitamin shop.
Cautions
It should be stated that, while The General is a powerful anabolic agent, it should used in conjunction with (not as a substitute for) strength training and a well rounded diet. It is a dietary supplement and is not designed to diagnose, treat, cure or prevent any disease. Anyone considering a new training and supplement regimen should first consult a qualified health practitioner.
For more information on The General and other top rated bodybuilding supplements, please visit http://www.Zupplements.com or call them toll free at 1-888-987-7748. Zupplements.com specializes in Select, Proven Bodybuilding Supplements and Steroid Alternatives. The Best Prices and Excellent Service!
# # #