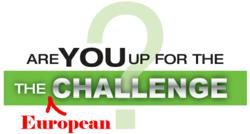 Now is the time to prepare for possible expansion of the #1 weight-loss & fitness challenge!
Hattiesburg, MS (PRWEB) November 28, 2012
A Body by Vi European Challenge launch is widely anticipated from the health, fitness, and networking communities. When Body by Vi 90 Day Challenge launched in Canada they set records in the industry, which could be shattered by the launch of Body by Vi in Europe. Top ViSalus promoters are starting to get positioned in anticipation of a possible launch Body by Vi Europe.
Earlier this month Ryan Blair, CEO of ViSalus stated that, "Our belief in the North American growth opportunity was reinforced by the record Promoter attendance at last weekend's National Success Training in St. Louis. Moreover, we expect to enter Europe, our first market outside North America, in the first half of 2013.
We believe international expansion offers a significant growth opportunity for ViSalus since most larger multi-level marketing companies derive at least 75% of their sales outside North America.
Moreover, we believe the European marketplace is an opportune environment for ViSalus as our European neighbors are equally challenged by the obesity epidemic that is targeted so effectively by both the Body by Vi™ 90 Day Challenge and ViSalus' product offering."
Lana's Body by Vi Team are currently positioning themselves to be ready if Body by Vi opens in European markets. They are increasing their presence through online marketing and social media; offering more in depth mentoring; positioning team members for a potential global business; and increasing the number team training meetings.
About Visalus:
ViSalus is the company behind the wildly successful Body by Vi Challenge, a 90-day lifestyle transformation platform. ViSalus champions personal victories and entrepreneurship through a social marketing model, premium products, and global community culture. Simple, Rewarding & Fun—the Body by Vi Challenge is the fastest growing health and fitness Challenge in North America today.
About Lana's Body by Vi:
Lana Smith, found of Lana's Body by Vi - has been able to achieve her goal of a successful home business with Body by Vi™. As a Body by Vi Ambassador, she continues to build and mentor a large team of promoters across multiple states, consisting of part-time rising stars and high-level Ambassadors. She has also helped hundreds of people lose weight and get fit while establishing their own successful Body by Vi home business.