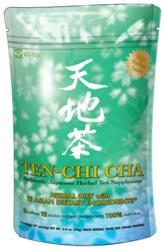 After drinking TEN-CHI CHA, the symptoms were gone and my high blood pressure did get lowered.
New York, NY (PRWEB) October 14, 2011
Is there any way for a relatively easy herbal body cleanse? TEN-CHI TEA will be the answer. This blend of 12 different Japanese herbs helps remove toxins keeping a body from performing, as it should. With a gentle taste, this drink will provide with weight loss and good health.
Does a great body cleansing tea exist that is caffeine free or has no sugar? Would finding a gentle herbal tea be a perfect solution? TEN-CHI CHA will provide all the answers. This Japanese tea blends many herbs not well known in the West. Until now, that is. This tea's 12 different herbs individually offer medicinal properties. Together, they offer a gentle cleanse to promote regular GI movements and keeping circulation healthy.
Tea, in many forms, is a major part of the American mindset. Hot tea is a great option on a cold night. Cold tea offers refreshment on a hot summer day. However, most teas sold in the US are caffeinated with tons of sugar added. Eco Vita, a leader in the health product market, wanted to bring an alternative to the market. With the help of thousands of years of Japanese tradition, Eco Vita develops a body cleansing and caffeine free tea TEN-CHI CHA.
Translated from the traditional Japanese, TEN-CHI CHA means "Heaven and Earth Tea." This unique body cleansing tea blends a dozen different herbs, each bringing its own properties to the mix. Dokudami is one of these herbs. In Japan, it is an herb well known for its vast array of benefits. One of its main functions it to remove free radicals that our bodies accumulate due to eating processed foods and exposure to pollutants. It can also help with allergic reactions, blood pressure, and indigestion, among many other conditions.
Bitter taste is a big problem with many herbal teas. Nevertheless, it is not a problem with TEN-CHI CHA. An essential part of creating this body cleansing tea is the roasting process that removes the bitter taste of many herbs. Its originator, Hiroshi Kumagai, wanted to make sure it was an easy to drink body cleansing blend. A gentle taste is part of its allure.
What makes TEN-CHI CHA so special? Many herbal teas claim to be special. The fact is this tea is special. It offers a wealth of health benefits including the ability to facilitate weight loss. The herbs help cleanse the body of harmful toxins and draw excess water out of tissues. The gentle cleansing action helps the body lose weight and keep it off.
While losing the weight, there will be other health benefits. Mental clarity is one reason many people use this body cleansing tea religiously. The tea boosts the immune system, helping fend off disease. The herbs contain antioxidants that fight free radical damage. This herbal body cleanse will help a body regain its own ability to heal from within.
Many try this tea out of curiosity. They continue using this tea when they see the results they get.
About the Company
Eco Vita, LLC is an environmentally conscious, health product company, positioned to deliver vital herbal and natural products in the United States. The company is dedicated to social responsibility in areas of the world that supply their products. Eco Vita is a member of the UN Global Compact.
###