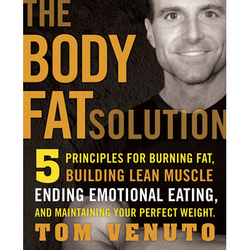 Burn The Fat, Feed The Muscle.
Hoboken, NJ (PRWEB) February 10, 2009
Can a true weight loss solution be traced to a single element of one's diet? Tom Venuto emphatically answers, "No!"
According to Venuto, today's diet and weight loss industry has things backwards. First, by treating the symptom rather than addressing the true cause of weight gain. And second, is what Venuto calls "information isolation."
This involves superficially, targeting one element of the diet as the root of the problem. The lineup of the usual suspects includes: carbs, dietary fat, hormones, toxins, high glycemic foods, or something equally simplistic and then hoping to achieve lasting change by eliminating that suspect element.
As Venuto shared, "Here's why targeting only one element of the diet is a fast track to failure. The simple truth is you can't treat body fat with one isolated strategy or approach--the body is made up of many diverse and active systems. What works long-term is a synergistic solution--a total-life approach that addresses the root causes of the body fat problem in every area of your life--physical, emotional, metal and social."
Tom Venuto's new hardcover health and fitness bestseller, "The Body Fat Solution: 5 Principles for Burning Fat, Building Lean Muscle, Ending Emotional Eating, and Maintaining Your Perfect Weight", addresses each area of life that can impact health, fitness and overall weight. The book reveals all of the following:

5 core principles to retrain mind and body for automatic success
Debunking 8 body fat myths
5 steps to end emotional eating
4 types of emotional eating triggers
4 core beliefs that highly fit and lean people have about food
Venuto, a top fitness coach, strength and conditioning specialist, and author of the #1 bestselling diet ebook, "Burn the Fat, Feed The Muscle" has been on a whirlwind media tour since the release of "The Body Fat Solution."
Venuto has given over 22 radio interviews from New York to Seattle. The Body Fat Solution was one of eight top diet books profiled in the Wall Street Journal. Venuto was also interviewed on Martha Stewart Radio. And articles highlighting The Body Fat Solution are set to appear in Oprah Magazine and Men's Fitness in 2009.
As in demand as Venuto is for an interview, his book continues to draw a steady stream of buyers. So as an extra incentive to purchase The Body Fat Solution, Venuto has assembled a special bonus package.
Anyone who buys a copy of "The Body Fat Solution" now gets eight extra bonuses, valued at $144, at no extra charge. According to Venuto, "To further complement my book, these additional materials provide valuable context and support for the entire Body Fat Solution System." To claim the 8 bonuses via immediate download visit: http://www.thebodyfatsolution.com
Tom Venuto is available for media interviews and expert quotes on the following topics:

Can you think yourself thin?
How to Stay Lean in Lean Times
Down with emotional eating, up with the weights!
Why we fall off the diet wagon and what to do about it
The Enjoyability Factor: How to have fun going from flab to fit
To learn more about Tom Venuto and The Body Fat Solution, the media are invited to visit: http://www.thebodyfatsolution.com/media.php
ABOUT THE AUTHOR:
Tom Venuto is an internationally recognized fat loss expert, nutrition researcher and natural (steroid-free) bodybuilder.
Since 1989, Venuto has been involved in virtually every aspect of the fitness and weight loss industry - as a fitness coach, nutrition consultant, motivation coach, fitness model, health club manager, freelance writer and bestselling author of the popular e-book, "Burn The Fat, Feed The Muscle." His articles and syndicated columns can also be seen on hundreds of websites worldwide. Venuto's digital newsletter is read by over 260,000 email subscribers every week.
http://www.TheBodyFatSolution.com.
###