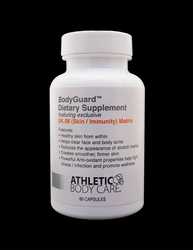 "The BodyGuard™ skincare supplement is a natural evolution for our brand and truly keeps our customers protected on the inside and out!"
Beverly Hills, CA (PRWEB) July 24, 2010
Athletic Body Care, the leading topical body care line designed to keep athletes skin and bodies at their peak performance, introduces BodyGuard™. BodyGuard™ is dietary supplement that provides users with healthy skin from within and supercharges the immune system.
A unique aspect of the BodyGuard™ skincare supplement is its proprietary SK.IM (skin / Immunity) Matrix. A revolutionary blend of science backed and proven ingredients, targeted antioxidants, amino acids, vitamins, and minerals will sharpen brain power, repair our bodies, increase the burning of body fat, increase muscle mass, improve mood and keep skin performing at its best!
"Our customers appreciate premium products and skincare is a top priority," commented Adam Page, Athletic Body Care & BodyGuard Nutrition founder and president. "The BodyGuard™ skincare supplement is a natural evolution for our brand and truly keeps our customers protected on the inside and out!"
With Adam being heavily involved in athletics, BodyGuard™ found a virtually endless supply of willing candidates to try the new product. As expected, they experienced quicker healing, infections eliminated, reduced scarring, and very effective dermatological effects of the skin. Some effects were: reduced signs of acne, firming of the skin, and overall feeling of wellness. This "grass roots" approach is evident in every aspect of the development of BodyGuard™ products.
Priced at an affordable $30, the 60 count bottle will last a month and provides a tremendous value.
The BodyGuard™ Skincare supplement is in high demand amongst combat athletes, as it is known to help the body fight infections and viruses that lurk in locker rooms and get transferred on towels, equipment and skin-to-skin contact. Healthy skin is the best prevention of infections. Women especially appreciate the firmer, smoother skin and the reduced appearance of fine lines and wrinkles.
All BodyGuard Nutrition, LLC products are produced in the United States and are GMP / NSF certified.
The BodyGuard ™ Dietary supplement is available for purchase at BuyBodyGuard.com. And is carried at select specialty stores across the country.
###