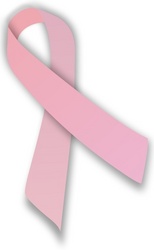 Progesterone deficiency can be exaggerated by stress, poor diet, and poor sleep habits. That imbalance can cause an environment of estrogen dominance, which could lead to excess breast cell proliferation.
Boca Raton, FL (PRWEB) September 9, 2008
What do balanced hormones, managing stress and breast cancer have in common? Reducing the breast cancer risk.
During October, BodyLogicMD will be handing out pink ribbons and breast cancer prevention tips to all patients in each physician's market. The goal of this Breast Cancer Awareness Month initiative is to improve public awareness about the importance of balancing hormones and reducing the risk of breast cancer.
According to bioidentical hormone therapy expert and BodyLogicMD Chief Medical Officer, Dr. Alicia Stanton, women whose hormone levels are balanced - including estrogen, progesterone, testosterone, insulin, thyroid, and cortisol - may have a more stable environment for their breast cells. This may limit excess growth and potentially reduce the risk of breast cancer. At the very least, it is important that all women are aware of their hormone levels, especially estrogen and progesterone.
Breast Cancer Awareness Month is an annual international health campaign organized by major breast cancer charities every October to increase awareness of the disease and to raise funds for research into its cause, prevention, and cure. The National Cancer Institute estimates that 182,460 women will suffer with breast cancer in 2008.
"It is well known that estrogen causes breast cells to grow, which is necessary. However, that growth must be balanced by progesterone, which stabilizes the cells. In perimenopause, many women are deficient in progesterone long before their estrogen levels decrease causing estrogen dominance," said Dr. Alicia Stanton, Chief Medical Officer of BodyLogicMD. "Progesterone deficiency can be exaggerated by stress, poor diet, and poor sleep habits. That imbalance can cause an environment of estrogen dominance, which could lead to excess breast cell proliferation."
With extensive research being devoted to breast cancer prevention and treatment methods, studies show that stress and lifestyle play a role in developing breast cancer. BodyLogicMD shares ways to reduce stress levels and improve lifestyle.
"Stress management in preventing breast cancer is key. Studies now show that women who endure a significant stress event, such as a divorce, death in the family or tragedy, are more likely to develop breast cancer," said Dr. Stanton. "Stress reduction and a lifestyle that allows you to take time for yourself is a healthy practice for all women."
Why does stress affect breast cancer levels?
Cortisol, the "stress hormone" is responsible for increased belly fat, lethargy, high blood pressure, high blood sugar levels, immune system suppression, and is now being linked to breast cancer. Produced by the adrenal gland, cortisol production is an automatic physiological response to increased stress of any kind.
"When you need more cortisol, you take away from progesterone. Progesterone is important in balancing estrogen. We look at estrogen and progesterone balance to help patients have less of a risk of breast cancer by reducing stress levels," said Stanton.
Stress management techniques can also be effective in helping to stop production of cortisol in the body.
"Aside from stress reduction as it relates to breast cancer, I often discuss lifestyle management with my patients - everything from increased exercise to time management," said Dr. Stanton. "It's important for patients to recognize how stress negatively effects the body and what they can do to stop that from happening."
About BodyLogicMD
Founded in 2003, BodyLogicMD is a network of highly trained physician-owned practices specializing in natural bioidentical hormone therapy integrated with fitness and nutrition to men and women suffering from hormonal imbalance, menopause and andropause. Suzanne Somers' latest book "Ageless, The Naked Truth About Bioidentical Hormones," features BodyLogicMD as an expert source. To request an appointment at the BodyLogicMD location nearest you visit http://app.bodylogicmd.com/content/getstarted/EmailMe.aspx
Subscribe to the BodyLogicMD blog with weekly hormone therapy news and views at: http://bodylogicmd.wordpress.com/.
###