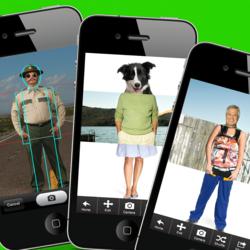 Perfect for any age group, BodyShuffle puts laughter and amusement at your fingertips.
Chicago, IL (PRWEB) September 27, 2012
Chicago-based development company, Zappitize launched BodyShuffle, a new entertainment and photo app for the iPhone. Available in the iTunes App Store, BodyShuffle lets you to take photos of your favorite living things, swap out heads, torsos and legs to create hilarious mash-ups of your friends, family, pets and anyone. The possibilities are endless and ridiculous.
Shuffle-worthy Moments
BodyShuffle is the photo-tainment app that answers age-old questions such as: "What would I look like with giraffe legs?" "Do you think my boyfriend could rock a prom dress?" Or, "Wouldn't it be hilarious if grandma's head were on our baby brother's body?"
Perfect for any age group, BodyShuffle puts laughter and amusement at your fingertips. Great for shuffling it up at birthday parties, Halloween parties, wedding receptions, family reunions, bachelorette parties, car trips or just a night out with friends. BodyShuffle is great fun whenever the urge to shuffle strikes.
How it Works
It's easy to use; just snap, swipe, size and share! BodyShuffle makes framing the perfect shot easy with a body outline-guide and once you add a friend to your BodyShuffle library you can use their photo again and again.
SNAP photos of your friends, family and pets.
SWAP in and out different torsos, heads and legs with just a swipe of your finger.
SIZE each section as needed with pinch-zoom for a seamless swap.
SHARE your favorite swaps on Facebook, Twitter, Flickr or email with the click of a button.
Tap the SHUFFLE feature or shake your device to generate endless shuffling fun in a snap.
Start Shuffling Today
BodyShuffle is free until October 15, 2012 so download it from iTunes today and get shuffling! Click here to see BodyShuffle in The App Store.
You can also interact with BodyShuffle on Facebook and Twitter.
Zappitize is a Chicago-based mobile app and web app development company. The company builds proprietary apps like BodyShuffle along with custom apps and mobile site for clients and partners.