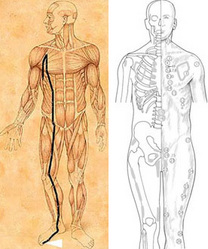 People are always looking for natural health solutions. A Myotonix tune-up immediately restores their body to a more functional state, so they look and feel energized and alive again
Clearwater, FL (PRWEB) April 13, 2011
Recently exercise physiologist David Petersen fulfilled his dream of opening "The Body Tune-Up Shop". While the introduction of a tune-up service for people is noteworthy in itself, it is the publishing of his muscle therapy process, "Myotonix" which is even more significant. Over a four-year period, Petersen has perfected and honed his skill of improving human function, providing his clients phenomenal results. He has enabled many people to reclaim their lives from chronic pain and greatly improved the athletic performance of others.
Petersen realized early in his profession the significance of the concept "form follows function" and how it related to improving human function and performance. Just as a house depends on its foundation for the integrity of the windows, doors and piping, so too the human body depends on muscles to ensure optimal structure and whole body function. It became obvious that muscle balance is essential for total body health.
"Muscle tightness is not normal and is a symptom of bodily dysfunction - a compensation for weakness in other muscles". Petersen says. He found stretching had little positive effect since it failed to treat the cause of the tightness. He needed to somehow "activate" and strengthen the weak muscles so that the tight muscles would relax naturally.
By combining concepts of osteopathic manipulative treatment (OMT) and acupressure, Petersen developed Myotonix- a form of manual therapy that immediately strengthens and restores normal tone to weak muscles, improving muscle balance, structural alignment and overall function of the body.
Using as few as two fingers in a circular motion, he works on periosteal trigger points - knotty, tender adhesions in the weak muscle's attachment to the bone. Using a whole body approach, all the relevant points are treated during a tune-up from the base of the skull to the soles of the feet. Clients feel immediate relief and relaxation while gaining strength, flexibility and stability.
"It's extremely rewarding helping people improve their function and health on an almost immediate basis," Petersen says. One example he recalls was a man who visited his booth at a fitness expo where he was providing 10-minute demonstrations using Myotonix. Upon standing, the man noticed his right shoulder was dramatically less sore and informed David that it had not felt that good in decades, despite every kind of therapy. Another recent example was a collegiate baseball pitcher who complained of muscle stiffness and that his fastball had dropped to 81 mph. A day after an hour long tune-up he threw 89 mph.
So why have few people heard of Myotonix? Petersen says that although his education emphasized typical therapy approaches, he realized that often he was simply treating the symptom of bodily dysfunction and not the cause. As a result, much of his work has been perfected through study, self -teaching and hands-on experience, but he first wanted to perfect his technique before publicizing it.
Petersen explains that although Myotonix is different in its application from acupressure, he claims it works in a similar manner since many of the targeted trigger points are also acupressure points.
"Chronic pain, muscle tightness, fatigue, sleeplessness and depression are symptoms of bodily dysfunction and stress overload. Dysfunction and disease go hand-in-hand" Petersen says. "People are always looking for natural health solutions. A Myotonix tune-up immediately restores their body to a more functional state, so they look and feel energized and alive again."
ABOUT THE BODY TUNE-UP SHOP: The Body Tune-Up Shop, located in Clearwater, Florida, offers an innovative service to naturally reduce pain and enhance the health and performance of the human body. Created by David Petersen, BSc, CSCS, the process involves working on specific trigger points to activate and strengthen muscles. For more information, visit bodytuneupshop.com or contact Petersen at 727-459-8546.
(NOTE: Media members are welcome to try a complimentary session of Myotonix)
###