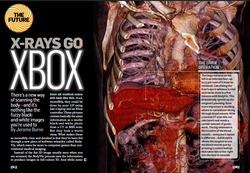 The 3D images allow us to do a pre-flight simulation of how we're going to perform operations. That's something we've been unable to do outside of surgery — until now."
Ames, IA (PRWEB) February 22, 2011
Iowa-based 3D MRI software startup, BodyViz, lands in articles printed in some of the UK's largest publications: The Sun, The Daily Mail, and Reader's Digest UK. BodyViz is innovative 3D medical imaging software that combines the best of gamer technology with actual patient MRI data to create vivid 3D visualizations, affordably on a PC. The software allows anyone from surgeons to anatomy students to simply "travel" under the skin, past bones, around arteries, blood vessels and organs and literally fly through patients' bodies. With an Xbox game controller, physicians create "clipping" planes and insert virtual surgical tools that can be maneuvered in anatomical structures, and view different tissue types at the touch of a game controller bumper.
Reader's Digest UK February edition (attached) "X-Rays Go Xbox" contains vivid pictures, reporting how the software saves time and builds confidence in surgeons and patients. BodyViz also appeared in The Sun and the Daily Mail Online. The Sun's Dr. Carol Cooper writes, "I can barely believe the level of detail. It has far more than the best anatomical drawings in the most expensive textbooks. It's a far cry from most X-rays and scans." From the Daily Mail, Dr. Richard Evans of the UK's Society of Radiographers says, "BodyViz's more sophisticated software results in wonderful, high-quality images. It could play a very useful part in training and in dry runs for operations." BodyViz President & CEO Curt Carlson noted, "The high level of interest in BodyViz can be attributed to its simplicity. A user can quickly see 3D spatial relationships within a patient's anatomy and investigate pathology like tumors, fractures and aneurysms all on a PC."
Since receiving FDA approval, BodyViz has been attracting the interest of top medical institutions across the country. The Methodist Hospital in Houston, named one of "America's Best Hospitals," purchased BodyViz's 3D stereoscopic version to project patient anatomy on a 16'x10' 3D silver screen. Dr. Brian Butler, Chairman of the Radiation Oncology Department at Methodist says, "The 3D images allow us to do a pre-flight simulation of how we're going to perform operations. That's something we've been unable to do outside of surgery — until now." Butler adds, "We can see the actual depth and shapes of tumors and their surrounding organs more clearly which helps when treating them. This software really changes the way we look at our world by creating a stereo view and adding dimension to it." On KHOU-TV, surgeon Thomas Aloia pointed out, "This is the difference between working in 2D and guessing, and working in 3D and knowing."
BodyViz at The Methodist Hospital in Houston as seen on KHOU-TV
BodyViz is also being used in education from medical institutions like Des Moines University to Teikyo University in Japan, along with secondary education (K-12) in a project called the Virtual Reality Education Pathfinder (VREP). BodyViz is installed at eight Iowa VREP schools running on stereoscopic 3DTVs where students don 3D glasses and use the Xbox controller to fly-thru real anatomy. VREP is quickly expanding throughout Iowa and the rest of the country. BodyViz plans to follow this expansion as a VREP Sustaining Partner in the project. Jack Harris, a project leader and Rockwell Collins Director of Advanced Manufacturing Technology, explains the benefits of virtual reality in education, "…studies show the human mind is only able to observe 100 bits per second for a written task, in comparison to a visual task, where the mind observes over a million bits. This allows students to not only absorb the learning better, but also retain the information."
About BodyViz
Located at the Iowa State University Research Park, BodyViz creates incredible 3D MRI / CT scan visualizations, unlocking medical imaging for doctors, specialists, surgeons, educational institutions, as well as legal professionals. BodyViz has been awarded the prestigious Prometheus Award for Startup Company of the Year by the Technology Association of Iowa, was awarded first place in the John Pappajohn Iowa Business Plan Competition, and has been featured on the megahit reality television show The Biggest Loser. BodyViz will also be featured on another national program "The Doctors" this February 22, 2011. BodyViz has extensive visualization features that enable users to quickly and effectively view and interact with their patient's data in a never-before-seen 3D manner that is changing the way medical, educational and legal professionals view their world. This virtual reality visualization software is affordably priced, lightweight and simple to use on laptops, PCs or on large stereoscopic 3D projection systems. Leveraging expertise developed at ISU's state-of-the-art Virtual Reality Application Center (VRAC) on Iowa State University's campus, BodyViz was created by VRAC Director James Oliver, VRAC Associate Director, Eliot Winer and world renowned surgeon, Dr. Thom Lobe.
# # #