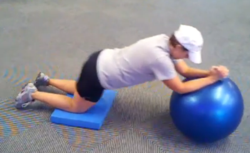 Atlanta, GA (PRWEB) February 13, 2013
With so many gadgets on the market geared towards sculpting abs, Mike Whitfield, the creator behind the Bodyweight Torch program, released a video explaining what he says is one of the best bodyweight ab exercises anyone can do using just their bodyweight and a stability ball. Whitfield explained that he wanted to keep people from investing so much of their hard-earned money on expensive gadgets and programs and instead, use advanced and effective bodyweight exercises such as the stability ball rollout.
"The stability ball rollout is one of the best bodyweight core exercises that can be done just about anywhere and they don't require thousands of dollars or any fancy equipment. All anyone needs to work their abs effectively, but more importantly, safely, is their bodyweight and a stability ball. The stability ball rollout is just one of many of the best ab exercises using just bodyweight. Sit-ups and crunches put way too much strain on the lower back and neck. By using the stability ball rollout with bodyweight workout programs, anyone can improve core and ab strength without doing a single crunch or sit-up. The key is to keep the abs braced during the entire movement, and that is what I explain on the video. Video demonstrations have become quite popular with my subscribers, so that's why I decided to release this unique bodyweight ab exercise explaining how to perform this ab exercise. The brand new bodyweight workout program, Bodyweight Torch, uses a variety of other bodyweight ab exercises as well and I wanted to put it together to prove to people who wish to sculpt their abs that they don't have to invest a lot of money to do so", said Whitfield.
You can get more of the best bodyweight ab exercises at http://www.bodyweighttorch.com.