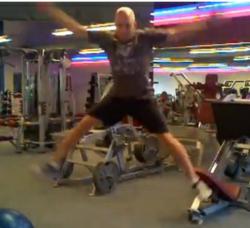 Atlanta, GA (PRWEB) February 12, 2013
Fitness experts are encouraging more and more people to use bodyweight exercises at home for times when they can't make it to gym sessions or bootcamps. Bodyweight workout programs have grown in popularity in the last few years due to the convenience of working out at home and they are popular for people who travel often. According to Mike Whitfield, the creator of a fun and challenging workout program called "Bodyweight Torch, bodyweight workout programs don't have to be boring, either. In fact, Whitfield released a unique bodyweight conditioning exercise for his subscribers called the "Star Jump" exercise that is challenging and effective.
"The Star Jump is a fun and challenging advanced bodyweight conditioning exercise that utilizes your own body and doesn't require any equipment. It's a great way to get quality exercise for anyone that can't make it to a gym or might be on the road. Bodyweight exercise routines are perfect for those that travel often and using the unique exercise like the Star Jump is just one of the many tools that people have to improve their conditioning and of course, even lose weight. Since it is a very challenging and advanced bodyweight conditioning exercise, I released a video demonstration for my subscribers so that they perform one of the best bodyweight exercises available with good technique. It certainly will increase your heart rate, but at the same time, it means anyone can get an amazing sweat going without stepping foot on a treadmill. This is perfect for a hotel room workout and of course, a great way to work out at home. There are other fun bodyweight exercises inside the Bodyweight Torch program as well proving that bodyweight exercise workouts don't have to be boring", said Whitfield.
You can download the 4-week bodyweight metabolic workouts with unique bodyweight exercises like the Star Jump at http://www.bodyweighttorch.com.