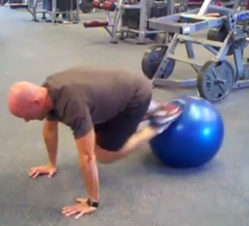 Atlanta, GA (PRWEB) February 21, 2013
BodyweightTorch.com, a website that offers a free 4-week bodyweight exercise program, revealed a video explaining the Stability Ball Jackknife Pushup. Mike Whitfield, the creator of the new program called "Bodyweight Torch", wanted to share the video with his subscribers to explain this simple, but effective bodyweight exercise that works the upper body as well as the abs.
"The Stability Ball Jackknife Pushup is one of the best bodyweight ab exercises that anyone can use with their bodyweight training program. This effective ab exercise not only works the core, but also works the upper body by adding a pushup after each rep of the jackknife. The stability ball is an inexpensive piece of equipment to perform beginner, intermediate and advanced bodyweight training exercises. The Stability Ball Jackknife is a client favorite because they are so effective. Due to the popular demand of this advanced bodyweight exercise, I wanted to do a demonstration video of exactly how it works so that anyone can use this effective core bodyweight exercise with their training program. It's a great way to work a lot of muscle at one time, burning more calories and burning more fat, all while strengthening the core muscles in a safe, but effective manner. The real secret to this bodyweight upper body exercise is to keep the abs braced as if someone is about to punch you in the gut", said Whitfield. He went on to say, "My subscribers really like the video demonstrations, especially on the more advanced bodyweight exercises. I decided to release this video for anyone wanting to perform the Stability Ball Jackknife Exercise more effectively and safely. "
You can discover more bodyweight exercises inside the Bodyweight Torch bodyweight training program at http://www.bodyweighttorch.com.