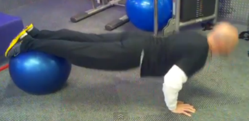 (PRWEB) April 09, 2013
Spring becomes very busy for most people and they are looking for ways to lose weight without having to go to the gym for an hour or more. Fortunately, bodyweight workouts are perfect for anyone looking for a way to lose weight at home. According to Mike Whitfield, the author behind "Bodyweight Torch", a revolutionary new bodyweight workout system, bodyweight circuits and bodyweight workouts don't have to be boring, either.
"The stability ball is a very inexpensive piece of equipment that allows anyone to do more bodyweight exercises and challenge their core", said Whitfield. He went on to say, "One of the best exercises you can do is the stability ball pushup. This is when the feet are at an elevated position and a pushup is performed. This will challenge anyone's core a lot more as well as increase the challenge of the pushup, making this a very advanced upper body bodyweight exercise. If someone doesn't have access to a stability ball, they can also use a bench or even some stairs. This upper body exercise now turns into a bodyweight ab exercise, which makes this a fun, but very effective bodyweight exercise. For our readers at bodyweighttorch.com, I wanted to reveal a video explaining how to perform this upper body bodyweight exercise so that anyone who wants to incorporate the stability ball pushup into their bodyweight routine will know exactly how to do this exercise right to maximize benefits and prevent injury. Our subscribers really enjoy the videos on how to perform bodyweight exercises correctly, so we were happy to reveal the stability ball pushup video demonstration."
Get dozens of bodyweight exercises with the full 4-week routine at http://www.bodyweighttorch.com.