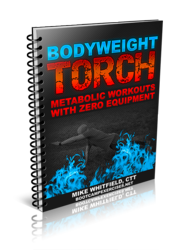 Atlanta, GA (PRWEB) January 17, 2013
BodyweightTorch.com, a brand new website that just launched a 4-week bodyweight training program, revealed a new video demonstrating how to perform the T Pushup, a challenging upper body exercise that also works the abs.
According to Mike Whitfield from Bodyweight Torch the T Pushup is one of the most under-utilized and unique bodyweight exercises that challenges both the upper body and the abs. However, due to the coordination involved, he decided to record an exercise demonstration video for anyone who wants to perform this great bodyweight core exercise so that it is done correctly. When done right, anyone will challenge their upper body while improving their core strength due to the stabilization.
"I wanted to make sure this exercise made it into the new bodyweight training and bodyweight conditioning program Bodyweight Torch. This new and cutting-edge program has a variety of unique bodyweight exercises, including the T Pushup. It's bang-for-your-buck exercises like this that truly make a difference when putting together a bodyweight workout. There are a variety of circuits and supersets using these bodyweight exercises in a fashion in which anyone will burn calories not only during the workout, but for hours well after, too. That's when the weight loss happens as long as their diet is in order. Challenging bodyweight routines like this are what keep people consistent so that they can reach their goals in the comfort of their own home. It's the ultimate at home workouts. Although there are photos and descriptions of all the exercises inside the program, I certainly understand that seeing an exercise like the T Pushup in action will help people more. That's why I'll be revealing more bodyweight exercise demonstrations videos in the future," said Mike Whitfield from BodyweightTorch.com.
Download the free 4-week bodyweight workout PDF that includes metabolic resistance training, metabolic conditioning and metabolic finishers at http://www.bodyweighttorch.com.