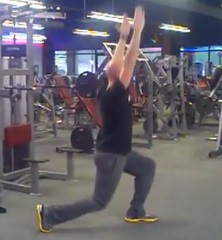 Atlanta, GA (PRWEB) February 01, 2013
With people all over the world looking for solutions to work out in the comfort of their own home without expensive and fancy equipment, bodyweight workouts are becoming more and more popular. According to Mike Whitfield, the creator of the bodyweight training program called "Bodyweight Torch", bodyweight exercises and bodyweight circuits can be really boring with the same exercises being repeated over and over. That's what inspired him to release a new video explaining one of the best lower body bodyweight exercises called the TD Bodyweight Split Squat. With this unique bodyweight exercise, Whitfield explains how anyone can work their upper back while working their lower body at the same time.
"The TD Bodyweight Split Squat is easily one of the best total body bodyweight exercises that anyone can use with their bodyweight circuit workouts because it burns so many calories and works so much muscle at the same time. My readers and clients have used this unique total body bodyweight exercise with great success and I had several requests to demonstrate bodyweight exercises like these through video. That inspired me to do explain this lower body exercise with a new video that I filmed inside my gym in Dallas, GA. It's a challenging lower body exercise that will improve lower body strength as well as improve shoulder mobility. There are many people that work behind a desk for 8-10 hours a day and they need to improve the upper back muscles and that's what they can do by implementing these challenging bodyweight exercises like the TD Bodyweight Split Squat into their bodyweight conditioning programs. I explain in the video on how to perform this cutting edge bodyweight exercise to get the maximum benefit", said Whitfield.
To learn more on how you can use these unique bodyweight exercises in the comfort of your own home, be sure to download the 4-week bodyweight training program at http://www.bodyweighttorch.com.