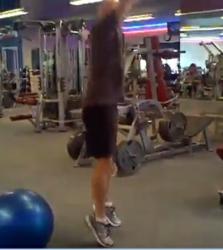 Atlanta, GA (PRWEB) February 06, 2013
The Total Body Extension, a total body exercise that many people are unfamiliar with, is a unique bodyweight exercise that is impact friendly. Mike Whitfield, a trainer that uses this bodyweight conditioning exercise with his online and offline clients, launched a video demonstrating how to perform this great bodyweight exercise.
"The Total Body Extension is a great way to replace Jump Squats, Lunge Jumps and many other jumping exercises because it's a low impact lower body bodyweight exercise. Although there is no jumping involved, that doesn't mean that anyone won't raise their heart rate using this amazing bodyweight conditioning exercise. It's also a great way to improve shoulder mobility, especially for anyone that works behind a desk for a long period of time every day" said Whitfield.
What Mike shows in the video is a very moderate pace, but as anyone gets used to the movement, they should go faster into an explosive pace. The Total Body Extension is one of the best total body bodyweight exercises that anyone can use with a bodyweight training program to improve conditioning and of course, lose weight. This unique bodyweight exercise also does not require any equipment and can be done in the comfort of their own home. Using unique bodyweight conditioning exercises can add a variety to anyone's bodyweight workouts and that's the approach Mike used with the Bodyweight Torch program, which is a 4-week bodyweight workout program designed to get people into shape with fun, yet challenging bodyweight circuits and more.
"It was a lot of fun to put together and I've already gotten great feedback from people who have started the program", said Whitfield.
Discover more unique bodyweight exercises like the Total Body Extension by downloading the free bodyweight workout pdf at http://www.bodyweighttorch.com.