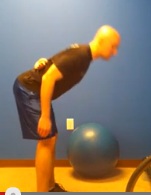 Atlanta, GA (PRWEB) February 05, 2013
Mike Whitfield, the author of the brand new program called "Bodyweight Torch" released a video explaining a unique bodyweight exercise called "The Waiter's Bow". According to Whitfield, this unique warm-up bodyweight exercise helps anyone wake up their hamstrings and glutes without straining or starting an overuse injury. Whitfield just released his brand new 4-week program that has a variety of bodyweight exercises that require no equipment and involves metabolic resistance training, metabolic conditioning and metabolic finishers. The bodyweight conditioning is intense and it was recommended by Whitfield to thoroughly warm up before starting such an intense bodyweight circuit.
"The Waiter's Bow is a great way to warm up the hamstrings, especially if anyone is sitting all day behind a desk. Unfortunately, the hamstrings can get really tight and if they are not warmed up properly through a variety of easier bodyweight exercises like the Waiter's Bow, an injury can happen. I have used this unique bodyweight exercise myself as well as with my campers and clients to prepare their legs for the intense bodyweight conditioning circuits. Explaining this unique lower body bodyweight exercise with photos and descriptions is great, however I knew it would benefit our subscribers by doing a demonstration video of exactly how to perform this effective lower body warm-up exercise. Exercises like the Waiter's Bow should be included in anyone's bodyweight training program because it's so simple, yet so effective at loosening the hamstrings and preparing the lower body for a great bodyweight interval session. That's why I decided to release a how-to video of this great bodyweight exercise" said Whitfield.
You can get dozens more of unique lower body bodyweight exercises and the 4-week bodyweight workout program at http://www.bodyweighttorch.com. It conveniently comes in pdf format, so you you can download this bodyweight workout pdf at this website.