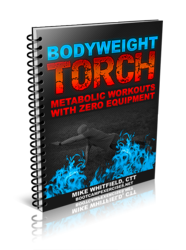 Atlanta, GA (PRWEB) December 28, 2012
Bodyweight exercises are growing in popularity and Mike Whitfield, a bodyweight workouts expert, launched his new program called "Bodyweight Torch" that includes 4 weeks of metabolic workouts.
"I'm approaching my 10-year anniversary of losing 105 pounds and I wanted to celebrate by sharing my experience of bodyweight workouts using zero equipment with anyone looking to lose weight but don't have a lot of time or anyone that can't make it to the gym. These bodyweight exercise circuits uses a variety of metabolic resistance training, metabolic conditioning and metabolic finishers for a fun but effective bodyweight workout program," said Whitfield.
He went on to say, "There are a variety of unique bodyweight exercises using zero equipment that anyone can use to lose weight in the comfort of their own home. These are fun but effective workouts and I know that anyone who gets this cutting edge program will benefit from it. It's bodyweight circuits like these that helped me shed off 105 pounds and I wanted to show that if I can do it, anyone can."
Download the free 4-week bodyweight workout program at http://bodyweighttorch.com/