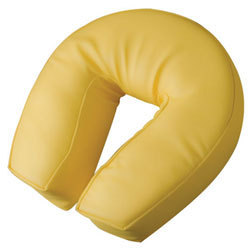 The Boiance Face Cradle Pillow is a revolutionary product for the massage and spa industries. The pillow was developed specifically to relieve facial pressure that occurs when a client is lying face down for treatment
New Freedom, PA (PRWEB) February 13, 2009
Boiance™, LLC., has dramatically changed the "face" of the massage therapy experience with its patented face cradle pillow design.
Invented by massage therapist Patricia Binder, the Boiance™ Face Cradle Pillow is engineered to relieve the facial pressure, sinus blockage, and eye compression often associated with face-down treatments. Constructed with a unique combination of foams varying in density and an internal structure of buoyancy balls housed within the foam, "The Boiance Face Cradle Pillow is a revolutionary product for the massage and spa industries. The pillow was developed specifically to relieve facial pressure that occurs when a client is lying face down for treatment," said creator Patricia Binder.
Boiance's unique technology provides floating support and a surface that is malleable and conforming to the client's features, allowing pressure to be evenly disbursed. It cushions the face and weight of the head resolving sinus blockage and avoiding direct pressure on the eyes. The Boiance Face Cradle Pillow provides exceptional client comfort when compared to traditional solutions and will work with all face rest platforms and massage table brands. Available in over 25 environmentally friendly fabric choices including 21 TerraTouch™ fabrics and 6 UltraTouch™ Fabrics, all are PVC-Free, making them safe for the environment and safe for clients as well.
Boiance Face Cradle Pillows are manufactured in the United States using materials from the best global sources to ensure high quality workmanship and the best experience for you and your clients. In addition to massage therapy treatments, the Boiance Face Cradle Pillow is a perfect solution for spa uses, medical spa treatments, medical and physical therapy procedures, or any practice requiring the client to be face down.
Boiance is dedicated to designing and finding products that make clients supremely comfortable. Founded in 2003 by Patricia Binder, LMT, Boiance has continuously strived to offer the finest massage table products available. Building on the success of their Face Cradle Pillow, Boiance has added other massage table accessories to their line of products, including flat and fitted face cradle covers, fleece face cradle pillow covers and portable massage tables. For more information please visit http://www.massagetable-accessories.com.
Additional information on Boiance and their products Contact:
Email address sales (at) boiance (dot) com
Phone: 1-866-789-7885
Press Release Inquires Contact media (at) skadv (dot) com
###