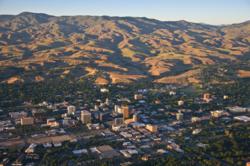 When you mix great designs and affordability with desirable communities, his product does not stay available for long
Boise, ID (PRWEB) July 17, 2012
Many Boise real estate industry professionals are seeing a lot of activity in the market, but Shaun Urwin and Rob Pearce's business has exploded. Based on the positive press and the influx of relocation activity we've been hit with, Boise, Idaho is on a lot of buyer's radar. "My business partner and I represent a gifted and passionate builder in James Clyde Custom Homes. When you mix great designs and affordability with desirable communities, his product does not stay available for long," says Pearce. Already this year Shaun and Rob have closed…..over $5 million?
"There were a lot of buyers sitting on the fence waiting to feel it was safe to consider buying a home and we have been positioning ourselves for when clients were ready," says Urwin.
When asked why they decide to move their licenses to CORE Group, Pearce and Urwin noted the strength of the company and the opportunity to work with an experienced team of buyer's agents. "When you sell new construction listings, you want agents showing your homes. Core has a proven group of buyer's agents who will now have our builder's inventory at the top of their list," says Pearce.
Moving forward Pearce and Urwin will continue to work along with their builder to find new opportunities in A+ communities. "We also plan to expand the high end, full custom side of James Clyde Custom Homes. We are focused on Quality instead of Quantity," says Urwin.
Rob Pearce
email: rob(at)coregrouprealty(dot)com
cell: 208-353-6407
Shaun Urwin
email: shaun(at)coregrouprealty(dot)com
cell: 208-989-4811
Learn more about Boise Idaho Homes for Sale