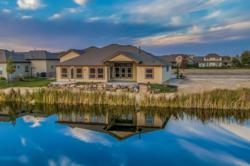 Boise, ID (PRWEB) June 10, 2013
Hammett Homes is a new company but Craig Hammet is not a new Home Builder in Boise, Idaho. Mr. Hammett has been the driving force to building hundreds of new homes in Boise and across Treasure Valley. In 2012, Craig Hammett decided to start his own company to focus more on custom homes and providing home buyers a more personalized custom home building experience.
Craig Hammet understand the importance of building a strong team of professionals in order to maximize the client's building experience. Hammett Homes works with reliable and trustworthy sub-contractors who take pride in their craft. Jay Ross, Sales Manager, has partnered with Hammett Homes and is responsible for marketing, sales and social media.
Hammett Homes is a preferred builder across the Boise, Eagle, Star, Nampa and Meridian area; communities include Lakemoor, Foxtail, The Shores, Pinewood Lakes, Greenbrier Estates, Timberland Estates and Silverpine.
Hammett Homes invites you to view http://www.HammettHomes.com. Trey Langford has put together a website that is visually stunning and will take you on journey through our exceptional craftsmanship, lovely landscaping and amazing views. Hammett Homes' website includes virtual tours, video tours, new home communities, new homes for sale, photo galleries and a list of Hammett Homes' quality standard features.
BUILDING FOUNDATIONS FOR LIFE
Hammett Homes is focused on you, the home buyer; we take pride in client satisfaction. Our team of exceptional professionals has over 40 years of experience and understands the importance listening to our clients needs so that we may design and build the perfect custom home. Hammett Homes would love to help you build your custom dream home.
If you would like more information or to schedule a meeting to design your perfect custom home, please contact Jay Ross at 208-871-3658.