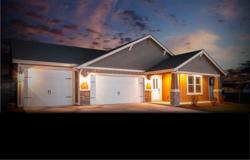 People from California are moving in to Boise!
Boise, ID (PRWEB) April 12, 2013
In 2006, the real estate bubble burst and overnight buyers disappeared. Now, seven years later, it is tough to find Boise Idaho Homes for sale as California moves in. Boise is growing even faster now which is creating another real estate bubble.
In 2011, over 12 thousand people moved in to Treasure Valley according to the Idaho Transportation Department and that number increased to 14.5 thousand in 2012, a 20% increase. Surprisingly, one in every five new residents are from California. This is a large buying force of people and according to Trey Langford of Build Idaho, many of them are paying cash.
In 2005, Boise saw much of the same thing, large in-migration and cash buyers which increased home values quickly. Builders are now paying close attention to the market because building lots are becoming scarce and costs to build new homes are rising. "The Boise Idaho Real Estate Market seems to be in a bubble," noted Trey Langford, "While many note trends that real estate analytics show it is not true, it is hard to deny the hype in the market. Many agents are frustrated that they cannot find prospective home buyers property to view and when they do find something there are multiple bids quickly. Also, there are now more than 200 builders in the market trying to find lots and sell homes."
Boise Idaho has plenty of room for growth still and developers are back looking for niches and dirt. "This year we anticipate at least five new larger communities to evolve," says Trey Langford. It is clear that builders are looking for opportunities to buy lots as many subdivisions, also like 2005, are creating builder teams and locking out other builders.
About Build Idaho
Build Idaho is a comprehensive Idaho Real Estate resource with a comprehensive database of new construction reports and home buying information. A comprehensive database of new subdivisions listed by MLS Area includes lot sizes, prices and starting home values. Community profiles include community amenities and homes for sale and building lots in each community. A Home Builder Directory includes gallery of homes, profiles and video interviews with builders. As with any real estate website, home buyers can also search the Idaho MLS.
Trey Langford
208/724-9636