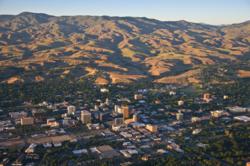 Our business continues to grow and create new opportunities
Boise, ID (PRWEB) July 18, 2012
CORE Group Realty's owners recognized the value of having a great domain name for internet marketing and when they found BoiseIdahoHomesforSale.com was available they quickly moved on it. CORE Group Realty, which markets on the internet with their main website- http://www.HouseHuntersOfIdaho.com, is excited to add this new site that includes blogs and has the capability to create web-pages for the builders they are creating relationships with. "We needed something that offered more flexibility," according to owner Gabe Cordova. "BoiseIdahoHomesforSale.com is built on a Neoreef platform which is a local company and allows more control over our own website and the ability to do more with it"
"Our business continues to grow and create new opportunities," Jessica Dalton pointed out. "We have always focused on the internet to market our company and this site reinforces our online strategy."
Recently CORE Group began marketing another builder, O'Dwyer Homes. The new website allowed CORE to quickly create a company page and a gallery of homes for the builder. This not only presents a great service we can offer our builder clients, but display homes to perspective buyers so we can connect them and build relationships..
About CORE Group Realty:
The owners, Gabe Cordova, Thom Dallman along with Gerald and Jessica Dalton had all been in real estate for almost a decade. The four, top producers in their own right were all working different successful systems. They believed, like any great partnership or any great marriage that they would be stronger and more successful together so they merged their separate businesses and programs into Core Group Realty.
Their mission is to build a small brokerage of highly motivated, competitive and fun loving top producers who all share the same belief in themselves, real estate, and in the relationships they build. They believe that relationships matter in any economy but especially in a down economy and that owning real estate is still the best road to financial freedom. Client Oriented Real Estate combined with strong relationships and family values are the cornerstones for the brokerage firm and the Core Group of agents that call it their home.
Search Boise Idaho Homes for Sale