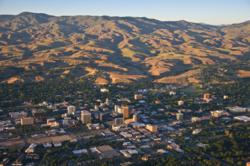 Boise, ID (PRWEB) October 02, 2012
The Boise real estate market is seeing some similar trends to previous years. In the first quarter of 2011, The Intermountain MLS saw a total of 798 sales and in 2012 a total of 870 homes sales. That is a 9% increase which echos the previous quarter increases. With such a rise in home sales there has been a lack in supply of homes.
"Despite the decrease in supply and the slight increase in sales prices, we are still a very active market" says Jessica Dalton, realtor and owner of Core Group Realty. "There are still a huge amount of buyers in the market scrambling to find homes for sale in Boise."
Statistics are showing that the number of homes for sale is down by 23.8 percent. With the inventories dropping, the price of home are on the rise, home prices are currently on a 9.4 percent rise over the past year. With the lack of inventory, many people are turning to new construction.
There has been a 53% growth in the number of building permits in the first half of 2012, compared to 2011. The new home builders in Idaho are always trying to find ways to accommodate buyers, making finding that perfect home easier! To find your existing Boise home or to learn how to build a custom home, contact a househunterofidaho.com agent today.