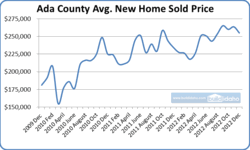 2012 marked the first normal year!
Boise, ID (PRWEB) January 16, 2013
For five years people have been discussing the real estate bubble and the recovery, but that is now history. For two years, Boise Idaho Real Estate has been steadily growing and new construction has seen increase in home values with the demand.
BuildIdaho.com has released its first in a series of real estate reports. The first report reviews new home sales trends in Ada County (Boise City). Through a series of charts, Build Idaho reviews price per square foot of new homes, average sales prices, total listings and other insights.
"2012 marked the first "normal year" for both new construction and real estate in Boise, Idaho," noted founder of Build Idaho Trey Langford. "For the last 6 years, builders have struggled to sell new homes and find profit but demand is recovering quickly."
Over the next 2 months Build Idaho will be analyzing other Boise Idaho real estate data and trends including top selling Builders and Subdivisions.