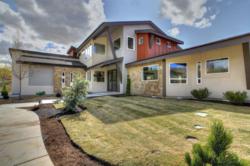 Boise Idaho is becoming a Sellers Market!
Boise, Idaho (PRWEB) August 03, 2012
The following stats are based on all of Ada County with Boise Homes being in the heart of the market data.
Between January 1, 2011 and July 30, 2011 there were a total of 4105 homes sold in the Boise area and of those 2024 of them were NOT "Distressed" (Bank Owned Foreclosures or Short Sales). That means that 51% of our sales the beginning of last year for Boise area homes were either Foreclosures or Short Sales.
Fast forward to the same dates this year the numbers have drastically changed. The Boise area has had 4255 total sales and 2896 of them are NOT distressed, or 68%. Why is that "drastically" different? Well for starters it is an increase in sales and better yet it is a huge increase in non distressed sales. Only 32% being distressed and 68% being sellers that have weathered the storm and can now sell in a recovering Boise real estate market. That is approximately a 30% increase in equity and typical sellers in Boise market. "If there was more inventory and those wanting to sell their homes in Boise and surrounding areas knew the demand for homes, the stats would be even better" says Gabe Cordova of CORE Group Realty.
About CORE Group Realty
In the Spring of 2010, a core group of friends and realtors decided that despite the worst real estate market in their history, it was the perfect time to open a new brokerage firm in Idaho. Core Group Realty opened its doors in June of 2010 on the premise that Client Oriented Real Estate with a strong work ethic, based on a relationship of trust would be sustainable in any economy. While many brokerages were closing up shop and many realtors were being driven out of the business into other careers, the owners of Core Group (also known as House Hunters of Idaho- http://www.boiseidahohomesforsale.com/ ) believed there was an opportunity to start something unique built on exceptional relationships. Relationships amongst themselves, with their clients and other agents in the marketplace.
The owners, Gabe Cordova, Thom Dallman along with Gerald and Jessica Dalton had all been in real estate for almost a decade. The four, top producers in their own right were all working different successful systems. They believed, like any great partnership or any great marriage that they would be stronger and more successful together so they merged their separate businesses and programs into Core Group Realty.
Their mission is to build a small brokerage of highly motivated, competitive and fun loving top producers who all share the same belief in themselves, real estate, and in the relationships they build. They believe that relationships matter in any economy but especially in a down economy and that owning real estate is still the best road to financial freedom. Client Oriented Real Estate combined with strong relationships and family values are the cornerstones for the brokerage firm and the Core Group of agents that call it their home.