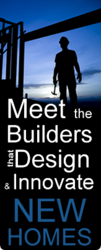 Boise, ID (PRWEB) August 25, 2012
Choosing a builder based on size may not be the best way to go about selecting a Boise Idaho home builder but it does establish experience, capability and strength. Home buyers who want to work with a reputable builder consider size, time in business and financial strength.
The Top Builders in Boise Idaho are
1. CBH Homes
2. Hubble Homes LLC
3. Coleman Homes
4. Brighton Homes LLC
5. Tahoe Homes
6. Boise Hunter Homes
7. Berkeley Building Co
8. Ted Mason Signature Homes
9. HFS Homes
10.Hayden Homes
View entire list of Top Boise Idaho Home Builders
Selecting a Home Builder
Selecting a home builder is a very important decision. It will determine the entire process of the home you build and what is delivered. There are three ways to develop a list of builders to interview-
After looking at several homes the builder has available for inspecting which ones did you like the best? Were they similiar to what you are looking to build or buy? Knowing the builder has done it before lends credibility to that builder(s).
What are their credentials and qualifications? Having been in business for years is a good sign you will be working with a successful builder but don't discount a new builder who is ambitious and looking to establish their company as a reputable builder as well.
Talk to past clients and ask if they would recommend the home builder based on-
Did they get the home they were expecting including price and was it completed in the time frame promised?
Were there any call backs and was the builder responsive?
How were the subcontractors?
Would they recommend the builder?
Finding the right builder is a daunting task that requires your due diligence. Learn more about selecting a home builder
Learn more about Boise Idaho Real Estate and Build Idaho