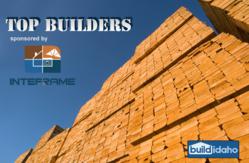 Idaho Top Builders Monthly Report
Boise, ID (PRWEB) June 29, 2013
There are many real estate reports but none as unique as this one. It is the only one of its kind and on one of the most popular real estate websites in Idaho - http://www.BuildIdaho.com .
Top Idaho Builders is a monthly report sponsored by Inteframe, a truss company in Nampa, ID. There are actually 6 reports. The first is a summary of new construction activity across the Boise MSA.
The next reports ranks builders by number of building permits and breaks it up into Ada County (Boise area) and Canyon County (Nampa area). Visitors will be able to not only view the list at no charge nor required to register but also view homes for sale by builders.
Visitors are also shown who is building the most expensive homes. The custom home builder report lists Idaho Custom Home builders by cost of project and lists the square footage of the homes. The purpose of the report is to help home buyers see who is in the market at this level so they can find truly custom home builders.
The last report is best selling subdivisions in Treasure Valley. It is based on number of home sales. While the report is not intending to say which communities are the best, it is a great tool to see how home buyers spent their dollars.