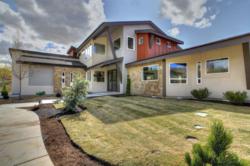 Just one year ago many wondered if Boise real estate would ever recover?
Boise, ID (PRWEB) August 05, 2012
It is hard to believe that just one year ago many wondered if Boise real estate would ever recover. Now homes are receiving multiple offers and home values are on the rise. As of the end of June, The Boise Idaho Real Estate market has had 6727 sales, up from the 6455 sales in the same time frame as last year.
CORE Group Realty continues to lead the market. Thom Dallman, an owner of CORE Group Realty notes that if past trends indicate anything, they are indicating that the economy may be in on it's way back with an interesting twist in supply. He further went on to say "with supplies equaling 2002's percentages, we are excited to see where the market takes us and feel our constant monitoring is keeping us well prepared to best help our clients as the market changes "
Over the next three month CORE Group Realty expects supply to continue to decrease. This will lead to increased home prices and great new home construction options as builders scramble to take advantage of the market.
About CORE Group Realty:
The owners, Gabe Cordova, Thom Dallman along with Gerald and Jessica Dalton had all been in real estate for almost a decade. The four, top producers in their own right were all working different successful systems. They believed, like any great partnership or any great marriage that they would be stronger and more successful together so they merged their separate businesses and programs into Core Group Realty.
Their mission is to build a small brokerage of highly motivated, competitive and fun loving top producers who all share the same belief in themselves, real estate, and in the relationships they build. They believe that relationships matter in any economy but especially in a down economy and that owning real estate is still the best road to financial freedom. Client Oriented Real Estate combined with strong relationships and family values are the cornerstones for the brokerage firm and the Core Group of agents that call it their home.