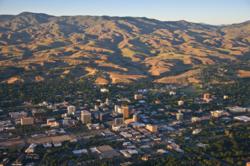 Average Sales Price up thirty thousand dollars
Boise, Idaho (PRWEB) June 28, 2012
In May 2012, the Intermountain MLS recorded 604 home sales. While this did not represent a significant change in sales from the previous year, the average sales price was up over thirty thousand dollars. Also, due to the lack of inventory of homes, many buyers frustrated from bidding against investors, have started considering new construction. New home sales was up 100% from 65 sales in May 2011 to 130 in May 2012.
CORE Group Real Estate is experiencing much of the same thing and has partnered with several local builders to provide options for their clients for new home construction in Idaho.
One aspect of the Boise Idaho homes for sale statistics the CORE Group noted was that the lack of inventory and increase in new construction is definitely contributing to higher home prices in the Boise Idaho area.
Thom Dallman, owner at Core Group Realty, shared some market insights that he is seeing with his clients; " It's a great time to sell your home as prices are trending up. We are not sure what the next few months will bring, but signs do point to a continued slow climb."
About CORE Group Realty
In the Spring of 2010, a core group of friends and realtors decided that despite the worst real estate market in their history, it was the perfect time to open a new brokerage firm in Idaho. Core Group Realty opened its doors in June of 2010 on the premise that Client Oriented Real Estate with a strong work ethic, based on a relationship of trust would be sustainable in any economy. While many brokerages were closing up shop and many realtors were being driven out of the business into other careers, the owners of Core Group (also known as House Hunters of Idaho- http://www.boiseidahohomesforsale.com/ ) believed there was an opportunity to start something unique built on exceptional relationships. Relationships amongst themselves, with their clients and other agents in the marketplace.
The owners, Gabe Cordova, Thom Dallman along with Gerald and Jessica Dalton had all been in real estate for almost a decade. The four, top producers in their own right were all working different successful systems. They believed, like any great partnership or any great marriage that they would be stronger and more successful together so they merged their separate businesses and programs into Core Group Realty.
Their mission is to build a small brokerage of highly motivated, competitive and fun loving top producers who all share the same belief in themselves, real estate, and in the relationships they build. They believe that relationships matter in any economy but especially in a down economy and that owning real estate is still the best road to financial freedom. Client Oriented Real Estate combined with strong relationships and family values are the cornerstones for the brokerage firm and the Core Group of agents that call it their home.
Search Boise Idaho Homes for Sale