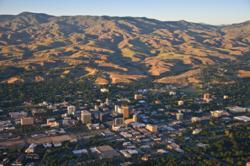 BuildIdaho.com is the most comprehensive Guide to real estate in Boise, Idaho- period
Boise, ID (PRWEB) July 03, 2012
Boise Idaho Real Estate has been consistently recognized for the strong recovery in the housing market but new construction continues to gain momentum as well. For over a year now there has been a continuous decline in the number of Boise homes for sale which is causing a series of after effects. The lack of inventory has been driving prices upward and because home buyers are not able to find what they want right away they are turning to builders for new homes.
The number of homes for sale on the Idaho MLS shows continues to be small no signs of improving and therefore it is expected that home values will continue to rise. Boise home builders will continue to benefit from this as prospective home buyers that can't find existing homes that meet their needs turn to new homes for sale. Another reason that new construction is so strong has to do with the In-Migration Report from BuildIdaho.com. This report shows that in 2011 over 9,000 people moved to the Boise area and only 1,400+ homes were built. This deficit in the number of homes available to new residents has builders playing catch up to meet demand. During the first half of 2012 there have been almost 950 home built compared to only about 600 for the previous year.
About BuildIdaho.com
Build Idaho is a local real estate website focused on marketing builders who want not only exposure to prospective home buyers but also unmatched services and value.BuildIdaho.com was developed by Trey Langford who saw a need for home buyers who were interested in new construction. Langford realized that home buyers had limited, if any, resources to learn about the Boise Idaho Real Estate market and the builders that design and innovate new homes for sale and custom homes.
Build Idaho includes 4 main features
1) The most comprehensive list of new communities available. The list is divided into different areas from northeast Boise to Parma, Idaho. The communities are then segmented into lifestyle categories including Entry Level, Move-up, Upgrade and Luxury Subdivisions. Within this guide visitors may review building lot sizes, lot prices, subdivision amenities and starting home values.
2) Builder Research. Learn more about local builders in the city directories. Visitors may review company profiles, gallery of homes by builders including Parade of Homes and video interviews with builders. No other source offers so much information.
3) Search Boise Homes for Sale. This search of the Idaho MLS includes Google Streetview and Map plus property details. Unlike many Boise Real Estate Website, there is no registration required.
4) Home Buyer Tools. The most extensive list of tools available- Rent vs Buy widget, Boise Idaho Parade of Home Details and Pictures, Virtual Kitchen Designer and much more.
Home Builders looking for marketing notice that Build Idaho not only performs well in search engines but provide quality leads. The site is focused on new construction so visitors are filtered.
Are you ready to buy or build a new home? Start your search with BuildIdaho.com!
View Boise Homes for Sale Video