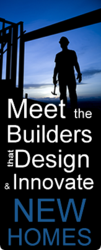 Meet the Boise Idaho Home Builers that design and innovate new homes
Boise, ID (PRWEB) July 09, 2012
There are many signs that Boise Idaho Real Estate is recovering in 2012. The Boise Idaho Parade of Homes included 40 brand new homes by the areas leading builders including starter homes to $Million Dollar luxury homes in premier communities across the city. Boise Idaho has also experienced a 53% growth in the number of building permits in the first half of 2012, compared to 2011
This is a staggering improvement in new construction and the rippling affects of job creation are a welcome economic benefit to the area which has had high unemployment for several years. Industry professionals consistently reference out of state buyers and empty nesters but entry level home buyers continue to be the largest group. For example, Hubble Homes has experienced a 500% growth in sales since the beginning of the year.
The explosive growth of the new home sales has is in part due to the lack of inventory of homes for sale, pushing many buyers into new homes. Many attribute the lack of Boise homes for sale to home owner situations that can't sell but BuildIdaho.com has also reported an interesting discrepancy. According to the Idaho Department of Transportation there were over 9,000 new residents in Ada County last year but only 1,200 homes were built.
Boise builders are scrambling to find quality lots which is not only driving up prices but making it more difficult for smaller builders to either build spec homes or find affordable lots for clients. Builders may find it difficult to be in business if they cannot find lots. Idaho developers are watching demand increase but it is still not profitable according to many industry professionals so they are waiting for land values to increase.