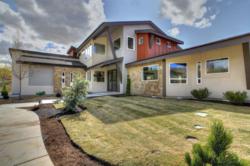 Boise Idaho Real Estate has been recognized as one of the fastest recoveries in the nation
Boise, Idaho (PRWEB) July 20, 2012
Boise Idaho Real Estate has been recognized as one of the fastest recoveries in the nation due the the dramatic increase in sales, increase in average sales prices and decrease in the inventory of homes for sale over the last year. New construction continues to be a hot spot as home owners are not finding what they want in used homes for sale in Boise Idaho and also competing from homes with investors.
Build Idaho recently analyzed what the best selling subdivisions were for July 2012. The best selling subdivisions clearly indicate that home buyers are looking for more than just the best priced house. The subdivisions selling more homes offer the latest buzzword in real estate- lifestyle.
Harris Ranch of Boise, ID- 7 new homes sold.
Tuscany Messina Meadows of Meridian, ID- 6 new homes sold.
Granite Basin of Nampa, ID- 4 new homes sold.
Hazelwood Village of Boise, ID- 4 new homes sold.
Sands Pointe of Caldwell, ID- 4 new homes sold.
Settlers Bridge of Meridian, ID- 4 new homes sold.
The Preserve of Eagle, ID- 4 new homes sold.
West Highlands of Middleton, ID- 4 new homes sold.
View Complete Boise Real Estate Report
Learn more about new subdivisions in Boise Idaho