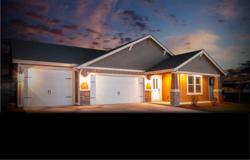 It was just a matter of time before other builders came off the sidelines to start building again
Boise, ID (PRWEB) October 31, 2012
Each week, Trey Langford, founder of BuildIdaho.com which is the largest Boise Idaho Real Estate Resource, reviews permit activity in Southern Idaho and has been watching new construction grow over the last two years.
"It was just a matter of time before other builders came off the sidelines to start building again," says Trey Langford. "Many builders have been waiting for the home buyers to return and for the risk of building a home to diminish. Of course, Now that they feel it is safe to enter the market, builders are having problem building lots."
At the Peak of the market over 700 builders were in the Boise Market and it bottomed out at just over 120 builders. 2011 was the first year Build Idaho noticed an uptick in the number of building permits as well as the number of builders but 2012 will be a dramatic increase in the number of new homes built.
About Build Idaho.
BuildIdaho.com is a new construction resource based in Boise Idaho. This resource started in 2005 and is the recognized authority on Boise Idaho Real Estate, Home Builders and New Construction. Also, learn more about Boise Idaho Homes for Sale