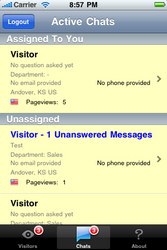 We developed the BoldChat iPhone application to help website owners, regardless of location, provide a stellar customer experience for online shoppers.
Wichita, KS (PRWEB) April 7, 2010
Bold Software today announced the availability of the BoldChat iPhone App, un-tethering website owners to chat with visitors anytime, anywhere. Customers can see a complete and real-time list of visitors currently on site; they can proactively invite visitors; and chat with them using direct text interaction or intelligent canned messages, all from an iPhone.
"Every customer counts more than ever for website owners, and customers today expect service 24/7," stated Bold Software President and CEO Steve Castro-Miller. "As a result, we developed the BoldChat iPhone application to help website owners, regardless of location, provide a stellar customer experience for online shoppers. With this app, e-tailers get the same offering – in a mobile format – that enables them to drive superlative support and increased conversions while they are away from their computer."
BoldChat iPhone App Features
BoldChat users can use the iPhone app to:

See visitors in real-time
Be notified of incoming chats
Sort visitors by time on site, website, or country
Investigate visit history including referrer URL and keywords
Proactively invite visitors
Chat live with visitors
Access canned messages easily
Utilize predictive logic for suggested canned messages
Manage multiple chats
ExposureManager is a full-service online sales resource for professional photographers. The company partners with more than 6,500 photographers, providing them with everything they need to create a branded website where they can upload photos, manage galleries, and fulfill orders for customers. The company has been using successfully using BoldChat live chat technology since October 2009. ExposureManager's experienced customer support team responds to chats with customers and photographers alike. Since implementing live chat, ExposureManager has seen a 10 percent increase in sales.
"We've had a very positive experience working with Bold Software, and, as a Mac and iPhone enthusiast, I was excited to give this app a try," said Donovan Janus, founder and CEO, ExposureManager. "Although I'm not on the front lines manning the chat sessions every day, I've found the BoldChat iPhone app is a great way for me to monitor this important aspect of our customer support experience no matter where I am. Right at my fingertips I have the ability to see when our customer service agents are engaging in a chat session, and watch the kind of questions we're getting. That's great information that helps me make decisions on how to improve our site."
Downloading the BoldChat iPhone App
The iPhone app requires that users establish a Bold Software account.
In just a few simple steps – even fewer for existing BoldChat customers – website owners are up and running, ready to view website visitors and chat with them via the BoldChat iPhone App.
The BoldChat iPhone App is priced at a one-time cost of $9.99 and is available in Apple's App Store which can be accessed through iTunes or directly from an iPhone device. Searching the store for "boldchat" will successfully direct people to the application.
To learn more, visit the BoldChat website.
About Bold Software:
Bold Software LLC, is a leading provider of world-class web communication tools designed to help businesses improve online support and increase sales. Using Bold Software's live chat, click-to-call, email management, and active co-browsing tools, businesses can quickly and effectively engage visitors on their website. Bold Software sells a wide variety of competitively-priced products under the BoldChat, BoldCall, and BoldCCM brand names. Businesses of all sizes - from small proprietorships to large ecommerce enterprises – can provide more intelligent online customer interactions and close more sales using Bold Software solutions. The company is headquartered in Wichita, KS, with thousands of customers around the world including 3M, American Cancer Society, Corel, Dean & DeLuca, and ViewSonic. For more information about Bold Software, go to http://www.BoldSoft.com or call 1-866-753-9933.
###