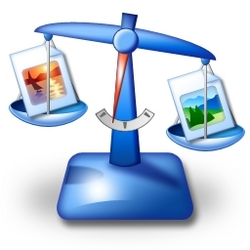 Seattle, WA (PRWEB) April 21, 2009
Bolide Software today announces the availability of Image Comparer 3.7, an innovative duplicate image finder that will help computer users to find duplicate images and pictures with varying degree of similarity to be deleted as redundant files. The new version of the duplicate photo finder has been optimized to support modern multi-core processors, which leads to a much faster search for duplicates with a little impact on system resources. Now users can scan the folders for image duplicates without fear of computer slowdown.
Image Comparer is an ideal tool for photo enthusiasts, designers, web masters and anyone else who has a growing collection of images on the computer and wants a reliable tool to find duplicate photos with different names. The problem with dupes is that they are not only a waste of space but can also cause confusion in files. Similar images may also add to the mess. For example, the user may not want to keep 10 photos of the same person but rather the best one. When it comes searching for a few duplicates in a small image gallery, most everyone does it by hand. However the search process becomes way harder if the user has a large collection of pictures. The problem is the process that follows these steps: first, the user opens one folder, clicks on all images, sees if there are any duplicates among them, and if there are not, gets out of the folder and goes to another folder. And then it goes on and on. Fortunately, there is Image Comparer, and it will automate the search to make it a snap.
Image Comparer enables rapid search for duplicates and similar files in computer folders, even if they contain hundreds, even thousand images, eliminating the need to browse through the folders by hand. To find dupes, the program relies on the innovative content-based image comparison algorithm, which identifies duplicates by actual content, rather than file name, format and image size. Therefore the results of the search are outstandingly precise, which cannot be achieved by competing utilities used to find duplicate images.
Searching with Image Comparer is going to save a lot of time. This is how it works. The user selects whether to compare images in one folder or in two different folders. The next step is to choose whether to scan for duplicates or similar files, and the final step is to set the output folder. When the search starts, the program finds duplicate images very accurately and quickly, especially on multi-core computers.
Then, the duplicates can be deleted all at once with a single mouse click. The duplicate photo finder can automatically select the best image from the similar duplicates for the user to delete unwanted versions quicker.
Images come in a wide variety of file formats that can lead to accidental duplication and Image Comparer works with most of them, including RAW, JPEG, J2K, BMP, GIF, PCX, PNG, TIFF, and TGA.
Searching for duplicate and similar files by hand may be fine if there are a few images. But what if there is a thousand? If the user does it manually, it'll take quite some time. Image Comparer may save the day!
Image Comparer runs on Windows 98/ME/2000/XP/Vista. For more information about the product, or to download a free 30-day trial, visit http://www.imagecomparer.com
Review software
If you would like to request review copies of Image Comparer, please mail Max Smirnoff. A full version of the product can be provided to the readers of your edition.
About Bolide Software
Bolide Software is a provider of multimedia products and software for collectors and hobbyists. Founded in 2003 by Max Smirnoff, Bolide Software has launched several successful projects, including All My Movies, Image Comparer, and Audio Comparer. For more information, please visit http://www.bolidesoft.com.
# # #