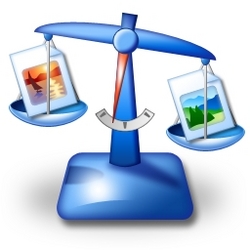 Seattle, WA (PRWEB) February 1, 2009
Bolide Software today announces Image Comparer, a duplicate image finder that lets users find similar or duplicate images automatically and delete redundant files. Until now, most people used to browse through computer folders manually to find dupes and similar photos. Image Comparer puts this process on autopilot. Using a content-based image retrieval technology (CBIR) for image comparison, the program is able to find dupes and similar pictures, regardless of their file name, format, image size, bit depth and orientation of the object.
Taking photos or downloading images from the Web is part of our daily life. Over the years, people collect thousands of them in the computer - photos made with the camera, wallpapers, clipart, images and artwork, the list goes on and on. Unfortunately all these images are hardly ever kept organized. People save them to different folders in different formats and then re-save their copies to other folders and sub folders. Photo duplicates take space on the hard disk, slow browsing through the collection and cause confusion as too many times we wind up not remembering where we put that particular photo we need now. Browsing through folders to compare images can be very daunting and would take ages, so many users don't do this, planning to sort out pictures later. And never do this.
Fortunately with Image Comparer from Bolide Software, finding duplicate or similar images can be pretty much a snap. Running Image Comparer displays an easy to follow wizard that asks where the user wants to search – within one photo folder or compare images in two different folders. The next step is to choose the folder(s) to scan, select whether to search for duplicates or similar images and set the folder for the output results. That's pretty much it. Clicking the Process button starts the search, which is incredibly quick.
Once the scan is over, Image Comparer presents the user with a listing of images in the gallery along with the top ten similar images for each selected picture. The user can also see supposed dupes in pairs, next to each other. The images are displayed with information about image format, resolution and file size. The user has the option to delete redundant files or move them to a particular folder on the computer.
The strength of Image Comparer lies in its content-based image comparison. The program analyses and recognizes images by their content. It means Image Comparer can identify even rotated or flipped images or those that have different shooting conditions. The level of visual similarity can be customized to meet individual preferences.
Image Comparer is an incredibly useful tool for photographers, designers and anyone else who often deals with pictures. The $34.95 download version will save users untold hours that can be invested into more enjoyable things.
Image Comparer runs on Windows 98/ME/2000/XP/Vista. For more information about the product, technical details of picture comparison or to download a free 30-day trial, visit http://www.bolidesoft.com.
Review Software
If you would like to request review copies of Image Comparer, please mail Maxim Smirnov. A full version of the product can be provided to the readers of your edition.
About Bolide Software
Bolide Software is a provider of multimedia products and software for collectors and hobbyists. Founded in 2003 by Maxim Smirnov, Bolide Software has launched several successful projects, including All My Movies, All My Books, Image Comparer, Audio Comparer and Hide Photos. For more information, please visit http://www.bolidesoft.com.
###