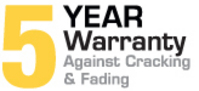 Given our product's performance, we established the 5-year warranty before anyone else to ensure that our customers receive the quality products they deserve
Chagrin Falls, OH (PRWEB) July 30, 2010
Setting an industry standard, Innoplast offers a 5-year warranty against cracking and fading on its BollardGard ™ bollard covers that provide bumper post steel bollards with ageless protection at an affordable price.
BollardGard ™ ensures that facility owners and managers won't need to think about whether covers will last. The post sleeves protect facilities like C-stores, restaurants, banks and refineries.
The bollard cover protects facilities, increases visibility and reduces maintenance costs.
Learn more:
http://www.innoplast.com/bollard-cover-ageless.html
"Given our product's performance, we established the 5-year warranty before anyone else to ensure that our customers receive the quality products they deserve," said Rick Raymond, CEO of Innoplast. "BollardGard protects your facility, minimizing maintenance costs."
Without Innoplast plastic bollard covers, bollards are more likely to chip and corrode. Additionally, companies will need to keep painting bollards to protect them and to improve their appearance and visibility, Raymond said.
BollardGard ™ products are made to last because they are made out of high quality, durable materials, with UV inhibitors for long service life and lasting color. BollardGard ™ is easily installed in minutes for effective protection and less maintenance.
For more information regarding BollardGard ™ products, please visit:
http://www.Innoplast.com
About Innoplast:
Located in Chagrin Falls, Ohio, Innoplast has a 10,000 square foot warehouse that is fully stocked to ensure a quick turn-around for custom and stock orders. The company offers quality products – each available at affordable prices.
Backed by a 5-year warranty against fading and cracking, products include BollardGard bollard covers, steel pipe, parking blocks and padded covers for columns, posts and gate arms. Innoplast products have been used at carwashes, fire stations, store fronts, banks, medical centers, facility warehouses, airports and more.
# # #