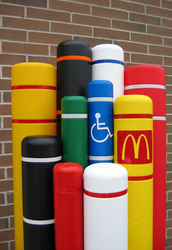 Companies can save a considerable amount of money by being careful with their purchases
Chagrin Falls, OH (PRWEB) October 6, 2010
Building owners and managers pay far more than necessary for bollard covers that protect vehicles and facilities, according to a new study that duplicated exposure to intense heat, moisture and UV light.
Given the results of the rigorous study and stark differences in product prices, Innoplast's BollardGard™ offers a much better value compared to a leading competitor, said Rick Raymond, Innoplast president. Innoplast led the industry by offering a 5-year warranty against fading and cracking.
Akron Rubber Development Laboratory (ARDL), an independent lab, recently conducted long-term performance testing of BollardGard and compared it to the competitor's bollard cover. ARDL, accredited by A2LA, followed ASTM industry standards with QUV Weathering and Gardner Impact Resistance.
BollardGard retained all of its strength and color even after being subjected to extreme heat and water conditions. The competitor's product performed well, but it costs twice as much, Raymond said.
"Companies can save a considerable amount of money by being careful with their purchases," he said. "Why should businesses stretch their budgets for other products if durability isn't an issue?"
Raymond ordered the product testing to prove that Innoplast bollard covers hold up well while being cost effective. BollardGard is manufactured from High Density Polyethylene and includes 3M #680 reflective tape for long service life.
BollardGard offers facility owners and managers peace of mind because they know bollard covers will last, Raymond said. The steel post sleeves protect facilities, including C-stores, restaurants, banks and refineries. BollardGard, which is easily installed in minutes with Innoplast Gripper Tabs™, increases visibility and reduces maintenance costs (no need for scraping and painting).
About Innoplast
Located in Chagrin Falls, Ohio, Innoplast has a 10,000-square-foot warehouse that is fully stocked to ensure a quick turn-around for custom and stock orders. The company offers quality vehicle and facility protection products – each available at affordable prices.
Backed by a 5-year warranty against fading and cracking, Innoplast products include BollardGard™ bollard covers, steel pipe, parking blocks, clearance bars, flexible bollards (including removable Gorilla Post™ bollards), ornamental bollards, speed bumps, and padded covers for columns, posts and gate arms. Innoplast products have been used at convenience stores, carwashes, fire stations, store fronts, banks, medical centers, warehouses, airports and more.
For more information, please contact Brooke Long at 800-516-9287 or visit Innoplast at http://www.innoplast.com.
###