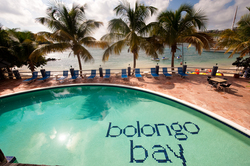 Instead of snorkeling for bottles of rum in the bay, visitors will be surfing the web to try to win a free vacation.
St. Thomas, US Virgin Islands (PRWEB) April 11, 2011
Bolongo Bay, the Caribbean's most entertaining beach resort, has launched a virtual version of its famous "snorkel booze hunt" and is giving away two free vacations to celebrate the launch of its new website.
BolongoBay.com is all about the experience. Users can easily navigate the site, make reservations with a prominent booking engine and connect with Bolongo through social media. The new design reflects the beach resort's laid-back, fun vibe and the experiences that make it unique – like the weekly snorkel booze hunt that's been taking place for more than 30 years.
Instead of snorkeling in the bay in search of bottles of Cruzan rum, visitors to the new http://www.BolongoBay.com will be surfing the web to find hidden bottles each marked with a letter and that spell out a secret message.
For this virtual scavenger hunt, the prizes are much bigger than a bottle of rum. Those who correctly spell out the secret message have a chance to win one of two free vacations. The grand prize winner will receive a free 5-night All Inclusive vacation and a 2nd prize winner will receive a free 5-night stay.* Each vacation winner also receives a welcome bottle of the real Cruzan rum and two sail trips on the resort's 53' catamaran – the Swim with Turtles Half-day Snorkel Trip and the Sunset Harbor Cocktail Cruise.
"Liking" Bolongo Bay on Facebook can be beneficial for the virtual scavenger hunt. The beach resort will be giving away a clue every Tuesday morning to its loyal fans.
To enter, visit http://www.BolongoBay.com/BoozeHunt. Bolongo Bay's Virtual Snorkel Booze Hunt is going on now and ends at 5 pm EDT on May 5, 2011.
With a snorkel booze hunt, sailing, diving, snorkeling and water sports such as paddle boarding during the day to live entertainment every night, there's always something fun to do at Bolongo Bay.
For more information, visit http://www.BolongoBay.com or call 1-800-524-4746.
*Prizes do not include airfare
About Bolongo Bay Beach Resort
Family owned since 1974, Bolongo Bay Beach Resort is the Caribbean's most entertaining beach resort. Bolongo Bay features complimentary non-motorized water sports and a discover scuba dive lesson, catamaran sails and nightly live entertainment at Iggies, one of the best beach bars in the Caribbean.
Located in the U.S. Virgin Islands, American citizens do not need a passport to visit.
###