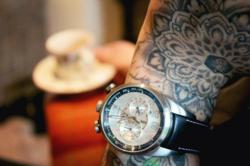 We got some epic shots and I believe that we have hit the nail on the head with the Defy Conformity brief
London (PRWEB UK) 10 June 2013
Scaleogy.com was approached by watch brand Bomberg from Switzerland with regards to creating a photo shoot to epitomise the brand. The brief was to Defy Conformity.
Scaleogy Ltd have today released the photos and the article on their luxury lifestyle website: http://www.Scaleogy.com/the-bomberg-1968-timepiece-defy-conformity
Bomberg informed Scaleogy that they would be entered into a competition with other 'bloggers' to enable them to have a tour of the factory and have their own personalised watch built for them.
To enter the competition, the bloggers had to do a photo shoot with a male model who defied conformity. Models with tattoos and distant looks.
Scaleogy.com certainly hit that brief with their model and the photographs taken which are now available to view on their website.
"It was incredible to be asked to enter this competition. I personally love luxury timepieces and it was wonderful news when Bomberg asked me to take part. Their watches are stunning and really beautiful in their design. I wear mine all the time now and I love it. The photo shoot was a lot of fun despite the weather, but we got some epic shots and I believe that we have hit the nail on the head with the Defy Conformity brief. Thanks Bomberg," Said Ben Hulme, the founder of Scaleogy.com.
The competition which encourages people to use the hash tag, #DefyConformity ends in September where the winner will be announced. To find out about Scaleogy's post from their photoshoot please visit http://scaleogy.com/the-bomberg-1968-timepiece-defy-conformity and tweet it with the #DefyConformity tag.