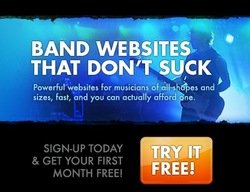 Bobmplates is an effeicient tool for the multi-tasking 2.0 artist. I have never been more happy with my online presence.
Dubuque, IA (PRWEB) May 24, 2010
KEYS:

Social Network Syndication
Simple, Dynamic, and Powerful
All styles come free on Bombplates system
Widely praised for their creative and unique approach to web-based marketing solutions,
Blackwood Media Group has once again put to good use their years of work alongside musicians and artists to provide a brand new web service intended specifically for artists.
Called Bombplates.com, the service offers ready-made, customizable web sites for the musician who hopes to reach a wider audience in the most fashionable, timely, authentic way possible.
SOCIAL NETWORK SYNDICATION
Bombplates re-captures the importance of the band's official website by enabling you to communicate with their fans via one central hub: the website itself. No longer must the artist sign in and out of various Twitter, Facebook, and MySpace accounts. Thanks to the powerful Bombplates system each social networking account is updated at once. And there's no need to ever navigate away from the website itself.
Want to tell fans about a new round of tour dates or the release date of that forthcoming e.p.?
Simply enter the information into the Bombplate sites and it is automagically posted on Twitter and Facebook and MySpace, and vice-versa. Anything posted on Twitter is immediately posted on the website too.
So by enabling bands to re-focus their marketing and merchandise sales efforts on their official websites, Bombplates ends the confusing fragmentation across the web and clarifies where information is coming from. It allows the band website to do the job it was meant to do in the first place. And it allows fans to know the information they are receiving is actually from the band.
SIMPLE, DYNAMIC, AND POWERFUL
But best of all, Bombplate's is easy to use. Each style is built on an intuitive content management system (CMS) that allows the artist to update most of their site content themselves, including adding and removing video, photos, news, tour dates, songs, blog posts, and bio information.
And if a band prefers to send out something a little bit more substantial than a forty character tweet or a facebook status update they can use SNDIT.com, Blackwood's integrated, inexpensive e-campaign service, and easily send out a newsletter style e-mail to any or all of their dedicated fans.
Included in each site is a powerful music player and a built-in, customizable merchandise store that connects easily with PayPal and allows the artist to keep 100% of their in-store proceeds. No longer must the artist integrate an expensive and confusing third party store or application that steals part of the proceeds.
FREE STYLES WITH BOMBPLATES SYSTEM
Bombplates costs only a $20/month hosting fee when you choose one of the established styles from the site. But if you sign up now you can get your first month free!
Each unique, dynamic, customizable style comes free to use on the Bombplates system.
THE ARTIST'S WAY
During their years of working with artists, whether in the studio or over the web, the Blackwood guys began to recognize the unique place in which most independent musicians find themselves.
It's tough to spread the word. It's important to be seen and to make a good first impression.
That's where Bombplates.com comes in.
This is band marketing done on the artist's time, the artist's way. Hassle-free. Stress-free. Third party free.
###