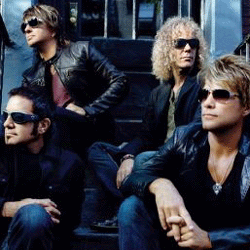 (PRWEB) December 01, 2012
Bon Jovi Tickets are now on sale for fans to lock in great seats to see the group perform songs from their new upcoming album "What About Now", as well as a collection of the band's past hits. In February 2013, the group will launch their "Because We Can" tour that kicks off in Uncasville, CT on February 9th. In March 2013, the band is releasing their 12th studio album, "What About Now".
The North American Bon Jovi Concert Tour will be making stops in 33 major cities. Some of these cities include: Chicago, IL; Charlotte, NC; Denver, CO; Toronto, Ontario; Tampa, FL; Atlanta, GA; Calgary, Alberta; Las Vegas, NV and Los Angeles, CA. The band will wrap up with two nights in the band's native New Jersey, on July 24th and 25th. In addition to the North American leg of the "Because We Can" tour, Bon Jovi will also be performing in Europe, Asia, Latin America, Africa, and Australia. Bon Jovi also announced they will be participating in the Isle Of Wight Festival June 16th. Additional dates on the World Tour are expected to be announced in the coming weeks. Fans should purchase Bon Jovi concert tickets now to lock in the best seats.
Bon Jovi expects their 2013 tour to be as successful as past concerts. The band's last tour, "The Circle" in 2010-2011, grossed $265 million in ticket sales, according to Billboard Boxscore. Their tours have finished as Billboard's highest-grossing tour of the year twice in a three year period, 2008 and 2010.
The "Because We Can" Tour will be the band's first tour together since 2010. The "Livin' On A Prayer" superstars have been together for over 30 years, performing over 2,700 concerts for more than 35 million fans in more than 50 countries. The New Jersey band, formed by lead singer and namesake Jon Bon Jovi in 1983, has sold more than 130 million albums.
Ticket Tweet, a leader in the secondary ticket market, has tickets available now for all Bon Jovi shows including those hard find Fan Packages and VIP packages. Ticket Tweet gives fans the ability to choose the Bon Jovi seats they want at the cost they want. So don't wait. Get your tickets today to see Bon Jovi in concert at http://www.tickettweet.com.