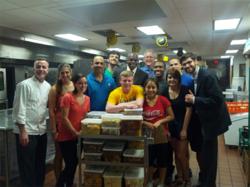 The vast majority of college campuses have no food recovery program whatsoever. We're hoping to change that fact.
Palo Alto, CA (PRWEB) April 17, 2013
Keeping food out of landfills has long been a critical part of Bon Appétit Management Company's mission of food service for a sustainable future. Consequently, Bon Appétit is proud to announce its new partnership with the Food Recovery Network (FRN), a student-operated nonprofit working on college campuses to curb food waste and end hunger. Bon Appétit and FRN will join forces in recovering surplus food, which would otherwise be wasted, from campus dining halls and delivering it to local shelters to combat hunger in the surrounding community.
Since launching in September 2011, FRN's student volunteers have recovered a staggering 136,000 pounds of food from university dining operations on the 21 campuses where it has chapters, the equivalent of 104,000 meals. Bon Appétit will continue to support FRN's efforts in three ways:
● BAMCO Foundation West Coast Fellow and Bon Appétit waste expert Claire Cummings is working with FRN's co-founder and Special Projects Coordinator, Rebecca Kagan, on a feasibility study that will give students and staff tools to determine how much food from dining operations is recoverable. They are also collaborating on a Campus Food Recovery Guide that will walk students and food service providers — not just Bon Appétit — through the process of launching a food recovery program. It will address frequently asked questions and concerns raised about food donation such as food safety and liability.
● Helping interested students and staff at Bon Appétit-serviced colleges and universities in starting an FRN chapter. The BAMCO Foundation's three Fellows, who perform educational outreach about sustainable food systems on college campuses for the company, have already launched food recovery programs at Whittier College in the Los Angeles area and American University in Washington, D.C. Numerous others are in the works.
● FRN works exclusively with universities, but is frequently contacted by non-university businesses and groups interested in donating food. Bon Appétit has shared its extensive research and institutional knowledge of other food recovery programs with FRN so they can assist those would-be donors appropriately.
Bon Appétit has long attacked food waste in myriad ways, starting with its pioneering introduction of trayless dining at Saint Joseph's College of Maine in 2005. The company's from-scratch cooking philosophy decreases food waste in the kitchen by using bones and vegetable scraps for making stock and soups; what it can't use is composted where programs are available or, at some accounts, sent back to farms to feed happy pigs. Cooking to order results in few unsold, unusable items at the end of a meal. However, overly generous estimates for catered events sometimes result in tasty leftovers such as entrees, whole-grain salads, and baked goods.
"We would far prefer that our food be eaten than wasted," said Maisie Greenawalt, vice president of strategy for Bon Appétit. "Wasted food represents wasted resources — soil nutrients, animals, a farmer's labor. Meanwhile, there are hungry people all over America. We are proud to work with the Food Recovery Network students to help feed the needy in our communities."
"The vast majority of college campuses have no food recovery program whatsoever," said Rebecca Kagan, co-founder of the Food Recovery Network. "We're hoping to change that fact. Not only is Bon Appétit a fantastic partner on the colleges where they work, but the guide that we're developing with Bon Appétit will be an invaluable resource in helping us expand to hundreds of other colleges across the country."
###
About Bon Appétit Management Company
Bon Appétit Management Company (http://www.bamco.com) is an on-site restaurant company offering full food-service management to corporations, universities, and specialty venues. Based in Palo Alto, CA, Bon Appétit has more than 500 cafés in 32 states, including eBay, the University of Pennsylvania, and the Getty Center. All Bon Appétit food is cooked from scratch, including sauces, stocks, and soups. A pioneer in environmentally sound sourcing policies, Bon Appétit has developed programs addressing local purchasing, the overuse of antibiotics, sustainable seafood, the food and climate change connection, humanely raised meat and eggs, and farmworker welfare. It has received numerous awards for its work, from organizations including the International Association of Culinary Professionals, the James Beard Foundation, Chefs Collaborative, Natural Resources Defense Council, Seafood Choices Alliance, The Humane Society of the United States, and Food Alliance.
Contact: Bonnie Powell, bonnie.powell(at)bamco(dot)com, (650) 621.0871
About the Food Recovery Network
The Food Recovery Network (http://www.foodrecoverynetwork.org) unites students at colleges and universities across America to fight food waste and hunger by recovering surplus perishable food from their college campuses and surrounding communities that would otherwise go to waste and donating it to people in need. Founded in September of 2011, it has since expanded to reach 21 college campuses and recovered over 130,000 pounds of food that would otherwise have been wasted. During that time, FRN has been covered by MSNBC, ABC, LA Times, and the Washington Post, as well as being recognized by Guidestar as one of the top student-run nonprofits of 2012. Over the next few years, FRN hopes to expand to hundreds of colleges, recovering 10 million pounds of food by 2017 and changing the face of food recovery across the country.
Contact: Hannah Wolfe, hannah.wolfe(at)foodrecoverynetwork(dot)org, (919) 619.2856