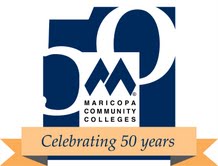 Residents of Maricopa County put their trust in us, and we're proud to share our progress. --Rufus Glasper, Chancellor of the Maricopa Community Colleges
Tempe, AZ (PRWEB) September 19, 2012
The Maricopa Community Colleges today issued a report on the expansion and remodeling of their facilities since 2004, thereby confirming their prudent use of voter-approved public funds.
Through 64 major projects since 2004, the Colleges have constructed or remodeled nearly two million square feet of classroom and student support space and acquired 280 new acres of land.
The Colleges' fiscal prudence has been recognized by the nation's three top bond ratings agencies on several occasions, most recently in May 2012.
"Residents of Maricopa County put their trust in us, and we're proud to share our progress," said Rufus Glasper, Chancellor of the Maricopa Community Colleges. "We have acted in accordance with the voters' directives, and have used these monies to finance the development of our college system on a priority basis. This model has given us the flexibility to deal with evolving plans, changes in technology, and dramatic shifts in the economy."
The report – available online at http://www.maricopabondreport.org - features a selection of projects that highlight the Colleges response to the Valley's growing need for training and education.
"The Maricopa Community Colleges have been educating and training Arizona's workforce for fifty years," Chancellor Glasper continued. "The country's economic downturn makes our mission-driven agenda even more critical. We look forward to continuing to help our students succeed in attaining their educational and career goals."
Maricopa County Bond Elections
The Maricopa Community Colleges have held a number of bond elections over the past half-century; voters have overwhelmingly supported them. In 2004, three out of four Maricopa County voters – a majority in every precinct – authorized the $951 million long-term capital program for the colleges financed by general obligation bonds. A timeline of the Colleges' major historic milestones is online at http://celebrate.maricopa.edu/timeline.
###
The Maricopa Community Colleges include 10 regionally accredited colleges: Chandler-Gilbert, Estrella Mountain, GateWay, Glendale, Mesa, Paradise Valley, Phoenix, Rio Salado, Scottsdale and South Mountain. It also includes the Maricopa Skill Center, Southwest Skill Center, and several satellite campuses and business/industry, technical and customized training institutes.